The Blaze recently published an article with a frightening warning of big tech totalitarianism: Google is censoring searches for Kyle Rittenhouse in the same way it censors searches for Adolph Hitler and the Taliban.
According to the article:
As of Sunday evening, when you do a Google search of "Kyle Rittenhouse shirt" on the tech platform's shopping tab, you receive a message that states: "Your search — Kyle Rittenhouse shirt — did not match any shopping results."
Oddly enough, right below the message was a paid advertisement from a company selling 20 different Kyle Rittenhouse shirts.
The article then includes an image of those censored marketplace results: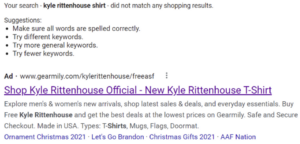 To be clear, that censored result is purely for Google's marketplace. The "search" page still includes results for Kyle Rittenhouse shirts. That's despite Google's marketplace allowing the sale of shirts supporting serial killers, communist dictators, and other evil figures from history. As the Blaze reports:
Google has no issues selling shirts with serial killers such as Jeffrey Dahmer, the cannibal sex offender who killed at least 17 men in Wisconsin, John Wayne Gacy, who was convicted of murdering at least 33 young men and boys, and Ted Bundy, who raped and murdered at least 20 young women and girls.
On Google shopping, you can purchase clothes featuring Che Guevara, a homophobic and racist Marxist revolutionary; Pol Pot, leader of the Marxist Khmer Rouge that killed more than 1.7 million people through work, starvation, and torture in four years; Joseph Stalin, the Russian communist despot believed to have killed 20 million; and Chairman Mao, the Chinese communist tyrant that killed 45 million in four years.
The big tech shopping platform has no problem selling shirts celebrating Antifa, which contributed to the record-high damages in the 2020 riots. Google also has no issues with apparel praising Rene Boucher, the convicted neighbor of Rand Paul who attacked the Republican senator and broke his ribs in 2017.
So, Rittenhouse, who was recently acquitted on all 5 charges that made it to the jury, is persona non grata. Google won't let you buy a Kyle Rittenhouse shirt on its marketplace. But it will let you buy one of mass-murdering Communist dictators, sick and twisted serial killers, and the Antifa thugs that burned cities to the ground in 2020.
The only other marketplace searches that the Blaze found to be banned in the same way are searches for "Adolph Hitler," "Nazi," "the Taliban," "Proud Boys," and "Q-Anon." And again, unlike those horrific people in the marketplace results that aren't censored and those in the search results like Hitler and the Taliban that are censored, Kyle has been found innocent. While he might face civil suits, the criminal allegations against him have been disproven!
And, while Google's censorship seems straight out of 1984 or Red China, Google isn't the only Big Tech company that's still censoring content related to Mr. Rittenhouse. As The Federalist's Josiah Lippencott reported in a recent article, Twitter censored him for saying Kyle Rittenhouse did nothing wrong…after a jury found that Kyle Rittenhouse did nothing wrong. As he puts it in the article:
In the exuberant hours after Rittenhouse's acquittal, I tweeted the phrase "Kyle Rittenhouse did nothing wrong" to my 10,000 followers. The tweet went viral, generating hundreds of retweets and thousands of likes. Included was a photo of my suspension, from a few days earlier, for saying the exact same phrase. I felt vindicated.
Twitter, however, got the last laugh. On Sunday morning, I woke up to another suspension for insisting that Rittenhouse was in the right. The first had been for 12 hours. This one is for seven days.
Facebook too has been censoring pro-Rittenhouse content, claiming it violates their terms of service in that it promotes a dangerous individual.
Apparently, these Big Tech companies disagree with the law and think their opinions matter more than a jury verdict.
By: Gen Z Conservative, editor of GenZConservative.com. Follow me on Parler and Gettr.
This story syndicated with permission from Will – Trending Politics
Notice: This article may contain commentary that reflects the author's opinion.
---


Calling All Americans! Patriot Fetch is Conservative Breaking News Headlines every day, all day. Go to PatriotFetch homepage for daily Conservative news or look below for the next hot story!