"There's a difference between lies and propaganda, it's worth knowing what it is," Carlson began during his Wednesday night monologue.
"All propaganda is lying, but not a lying is propaganda. What is the difference between the two? Think about the moments in your own life when you have lied. Most of the time you do it because you've done something that you are ashamed of and you are hoping nobody will find out. When you are caught, usually the truth. So someone says to you, you are a drunk. You say, no I'm not come I've only had three beers. But actually you at eight beers. You are lying, that is what lying is," he continued.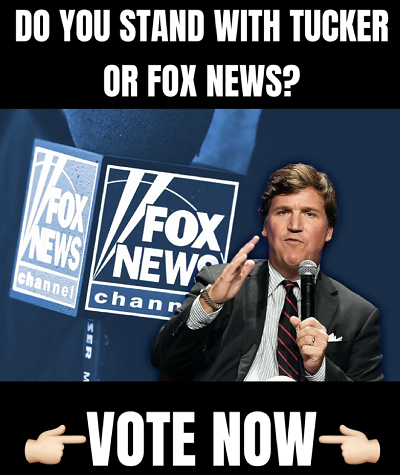 "Propaganda is different from that," Carlson explained.
"It is not a shading of the truth, propaganda is a complete inversion of the truth. You are drunk, somebody tells you. No I'm not, you replied, you are the one who's drunk. You've had eight beers. I'm disgusted by your drunkenness. That's what propaganda looks like. It's the mirror image of reality, the exact opposite of the truth and it is always delivered with ferocious aggression. Something about the human brain reaches that conclusion and it always has. That is why propaganda has always been a sponsor of society peer January 6 was an armed insurrection, they screamed. Russia is the real threat. The 2020 election was perfectly fair. It's all true. We can give you complex examples of this in action and he would recognize every one of them, but here's one from today's headlines, 'Kyle Rittenhouse is a white supremacist'. You are hearing that claim constantly from media figures and politicians as a factual matter in case anybody cares, that is a lie." Carlson said before exposing the media for the liars they are.
"There is no evidence whatsoever that Kyle Rittenhouse is a white supremacist, whatever that term is supposed to mean. There's no racial angle at all to this story. Of the four people directly involved in the Kyle Rittenhouse shootings, all four of them were white. You might not like Kyle Rittenhouse, but if you are an honest person you would have to concede that racism had nothing to do with what he did, how could it? Why would a white supremacist shoot white people? It doesn't even make sense. That is not slowed them down," he added.
Watch his full monologue below:
"Notice the framing of the conversation," Carlson continued.
"The propaganda from NBC news does not call him a white supremacist, you can't do that. The sureties just happened hours before paired the facts are to be fresh. There is no advantage that Kyle Rittenhouse had ugly racial views," he added before exposing the disgusting racial lies from MSNBC.
"Everyone paid at the tension of the time knew that very well. Instead of making a claim directly, the liar from NBC news stealthily broadens the question. "are you concerned about others who were white militia people?" Wait a second, what other white militia people? What are you talking about exactly? She never tells us what she's talking about, that's not the point. She has given her candidate, Joe Biden, the opportunity to take it from there. That is the point of the set up. Biden goes on to invoke protests in Charlottesville, Virginia, from years before which have nothing to do with anything that happened in Kenosha, Wisconsin, in the summer of 2020. But they didn't need to be to connected, the point was obvious. Everybody watching understood the point. The point was Kyle Rittenhouse is a dangerous racist. And anyone who would defend Kyle Rittenhouse is probably a dangerous racist too. You see how that works? It works by indirection and stealth and dishonesty," Carlson concluded.
This story syndicated with permission from Clayton Keirns – Trending Politics
Notice: This article may contain commentary that reflects the author's opinion.
---


Calling All Americans! Patriot Fetch is Conservative Breaking News Headlines every day, all day. Go to PatriotFetch homepage for daily Conservative news or look below for the next hot story!