Sadly, it appears that the NBA isn't the only pro-Red China sports league in America; the NFL has joined it in bowing to the dragon and is now labeling Taiwan as part of China in a new app.
That news came (indirectly) from the NFL itself, which tweeted out this picture, along with a statement: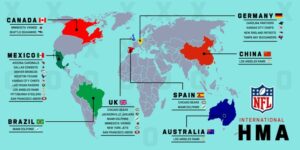 As you can see in the picture, both the Chinese mainland and Taiwan are colored red and labeled simply as "China," with the red flag of the CCP rather than the flag of the Republic of China denoting the nation.
Furthermore, the same image is included in the provided statement, which indicates that the image was not included inadvertently or colored incorrectly. Unless it's press and social media team was grossly negligent beyond belief, it meant to indicate that it, like the CCP, views Taiwan as part of Red China.
Additionally, the NFL announced that "18 teams have been granted access to 26 International Home Marketing Areas across eight different countries." The 8 countries are the ones shown on the map: Canada, Mexico, Brazil, Germany, Spain, Australia, and "China." With China being one of the countries, it's yet more apparent that the NFL is treating Red China and Taiwan as one country.
Thankfully, the NFL's pro-China perfidy hasn't gone completely unnoticed. According to Just the News, "Texas GOP Sen. Ted Cruz called the NFL's China expansion and subsequent erasure of Taiwan "disgraceful cowardice," adding that the NFL is "chasing dollars from the Chinese Communist Party."'
Still, it's distressing that at a time when Red China is constantly rattling its saber and threatening to reunify Taiwan by force, yet another American company, once part of our nation's soft power, is backing down to our greatest enemy and promoting its view of the world.
By: Gen Z Conservative, editor of GenZConservative.com. Follow me on Parler and Gettr.
This story syndicated with permission from Will – Trending Politics
"*" indicates required fields