The Ghislaine Maxwell trial is one of those rare events that nearly everyone is interested in.
Because of Epstein's suspicious death, the massive number of people connected to him all over the political sphere, the connections he had with people in every industry, and the air of mystery that surrounds his success and fortune, people want to hear more about what went on at Epstein's island, or at least who was involved.
Unfortunately, due to federal court rules, TV crews aren't allowed in the courtroom. Instead, we have to rely on the reports of those who manage to get seats in the courtroom, or who otherwise find out what's happening, and can report on it.
One such person ran a Twitter account called "The Maxwell Trial Tracker." That account posted frequent updates describing what was said in the courtroom and any interesting tidbits that came out from the proceeding.
Unfortunately, as is now sadly the case with controversial and conservative accounts, Twitter cracked down and banned the account. As Fox reports, it "was suspended on Wednesday after the tech company claimed the profile was violating rules against "platform manipulation and spam."'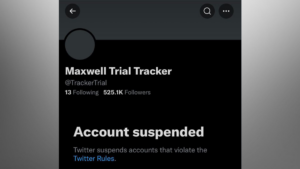 The account owner said on Substack that "I woke up this morning and the @TrackerTrial account on Twitter was suspended. All the other accounts that I have made in the past were also suspended. This was the only note that I received."
Adding further details on what Twitter claimed the account was doing and what it was actually doing, the account owner had this to say:
According to Twitter's rules, apparently the account was "artificially" amplifying information. I am not sure what I was "amplifying" and how I was doing that.
The account got insane engagement, which by the way, was all organic. There was not outside amplification. The people wanted to hear the truth about the Ghislaine Maxwell, and Jeffrey Epstein trial and the engagement numbers showed that. There were hundreds of millions in impressions and an account that went from zero to over 525,000 followers in a couple of weeks. All we did was report information from the trial that the mainstream media was failing to do.
[…]We have appealed to Twitter for a possible lift of the suspension, but it is likely we will never hear from them.
Fox News adds that "The Nancy Pelosi Portfolio Tracker @NancyTracker, which tracked the Speaker of the House's investments, was also operated by the same user and was also suspended."
So, Twitter is attempting to suppress those spreading the truth about Jeffrey Epstein and his partner in crime. Was this just a mistake based on the account's incredibly high engagement levels, or is Twitter trying to keep certain things hidden?
By: Gen Z Conservative, editor of GenZConservative.com. Follow me on Parler and Gettr.
This story syndicated with permission from Will – Trending Politics
"*" indicates required fields