Democrats must be in a competition over who can slander their political opponents in the most ridiculous, abhorrent, and rebuttable way possible.
There was Rep. Clyburn, who labeled those who protested in favor of Trump on Jan. 6th as "domestic enemies." There was Maxine Waters, who said that those who won't vote to nuke the filibuster don't care about black people. And there was Florida gubernatorial candidate Nikki Fried, who made an assertion that might top all the others; she compared DeSantis to Hitler. Yes, really.
Speaking during an appearance on NPR's Friday Roundup Podcast, Fried was asked by cohost Melissa Ross about a tweet in which she said "Ron DeSantis and his anti-democratic demagoguery is a danger to our state, our country, and yes, the world. Choose your own historical example if you want, but it's the damn truth."
Responding without missing a beat, Fried responded, not just doubling down but escalating, saying:
"He is doing everything possible to take power away from local governments, taking away people's abilities to protest, making it harder to vote, talking about, you know, banning books.
That's what dictators do. Instead of listening and trying to govern with the people, he is trying to govern over the people, and, you know, that, I'm sorry, I'm a student of history, too. I saw the rise of Hitler."
Ah, so because DeSantis wants to defend Floridians from physical dangers and subversive ideologies he's Hitler. Got it. Fried must be far less of a "student of history" than she claims because that's absurd.
But she didn't then double back and recant the detestable, absurd allegation that DeSantis is Hitler. No, when Ross specifically asked if she was comparing DeSantis to Hitler, she replied in the affirmative, saying:
"In a lot of ways, yes. I have studied Hitler and how he got to power, you know, wanting his own militia."
When Ross pushed back, arguing that many other states have similar forces for benign reasons, Fried said "Absolutely, but the reason why this governor wants it is different than the other states that have been utilizing it for emergency purposes." Got it. It's bad simply because DeSantis is doing it; sounds a lot like what the left said about Trump's policies.
Reporting on the militia comment Fried kept making, the New York Post said "[Fried] was referring to DeSantis' intent to relaunch the Florida State Guard, a volunteer civilian military force, to support the Florida National Guard during emergencies. He has proposed  $3.5 million in next year's budget to start a force of 200 service members, his office said in December."
Still Fried didn't stop. She also accused DeSantis of blaming…undefined groups for problems just like Hitler blamed the Jews, saying "This governor is doing it for the sole purposes of power and doing so to make fear and to instill that, to blame people for what is happening in their lives, blaming certain parts of our society and culture, and that's exactly what Hitler did to the Jews back during World War II."
Again, ridiculous. Blaming Fauci or woke people for disastrous policies is hardly the same as the "stab in the back" lie.
In any case, Fried finally concluded the insane interview by saying "Do I think that we're going to get to this extent of Hitler's power, of course not, but the rise of his power and what he did to scapegoat certain parts and especially the Jewish community in Germany and how he utilized taking going after the media going after, and scapegoating people and blaming people and putting fear and then taking over the military, that's what this governor is doing."
Now the left is labeling DeSantis as Hitler. They must really be scared of him.
By: Gen Z Conservative, editor of GenZConservative.com. Follow me on Parler and Gettr.
This story syndicated with permission from Will – Trending Politics
Notice: This article may contain commentary that reflects the author's opinion.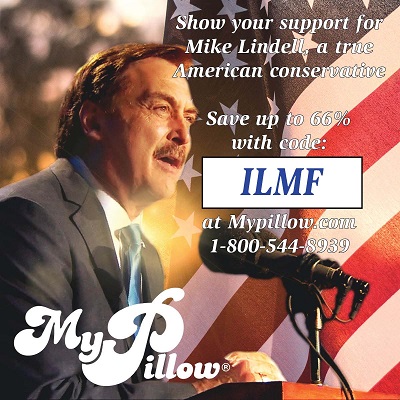 My Pillow Coupon Code = ILMF
Tap Here and Use It!
---


Calling All Americans! Patriot Fetch is Conservative Breaking News Headlines every day, all day. Go to PatriotFetch homepage for daily Conservative news or look below for the next hot story!