Tucker made a hilarious point during his most recent monologue, using an opening about Biden's disastrous presidency and many, many failures to then attack Kamala and make a hilarious joke about her and the Democrats.
He began by bringing up all that Biden has done that has made Americans worse off, then using that to show that not only is Biden incompetent and bad at his job, but also that he's a horrifically destructive force that's destroying the United States.
Speaking on that, Tucker said:
We do not want to deliver another depressing show, and we won't. But if you're looking at the country and thinking, "How do we measure the health of the United States?" there are pretty obvious ways to do it. The average life expectancy is one, the marriage rate, the effectiveness of the U.S. military, housing costs, the value of the U.S. dollar, health of the financial markets, the safety of our streets, etc. By every single one of those very basic measures, the Biden administration has failed and done so dramatically.
Biden isn't simply incompetent, though obviously he is. Biden is the single most destructive force in the history of the United States. In just a year and a half, Biden and Ron Klain, his strange, shadowy chief of staff, have done more damage to this country than anybody could possibly have imagined. We read the numbers every night, but they don't capture it. You know, what captures it? This story.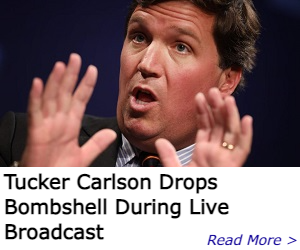 But that wasn't all. Everyone already knows Biden is terrible, so Tucker had to do something more with it.
And that's exactly what he did; using his comments about Biden being beyond awful as a lead in with which he could attack cackling Kamala, Tucker then made a faux endorsement of Kamala for 2024, exposing the dearth of talent on the left side of the aisle and just how horrible the current White House "leadership" team really is.
Making that joke and point, Tucker said:
Biden has got dementia. Who knew? Well, actually, they all knew, and they all knew all along, and they should not be allowed at this late date to evade their culpability for knowing and lying about it. They committed this crime. These people are cynical. They're ruthless. They're morally disfigured and if you need more proof of that, consider how they're treating poor Kamala Harris.
They've abandoned Kamala Harris completely. It's shocking, really, given that just 18 months ago, these very same people were yelling at you about how lucky you were to have this historically Indian, Black female vice president, the very first in history. It was thrilling. They got emotional just thinking about it. Kamala Harris was that wonderful. Here's a recap.
[…]Well, it turns out the presidency is a different thing. Affirmative action is essential for vice presidents, obviously. That's how we got Kamala Harris in the first place, but not for presidents. Presidents have too much power, so the usual diversity standards don't apply. We've had 46 White male presidents in a row, and the Democratic Party wants you to have another.
Oh, not so fast, racists. Hold on a second. Now, the rest of official Washington may be completely on board with this coup against Kamala Harris, who, again earned the job. They may be willing to stand back and allow America's highest-ranking woman of color to be degraded and humiliated in the pages of The New York Times, but we're not. We believe Kamala Harris is a human being with hopes and dreams and aspirations.
[…] Tonight, we are endorsing Kamala Harris for the 2024 Democratic primaries. She deserves it and so do Democrats. They created her. They should be forced to live with her and anyone who disagrees with that is, by definition, a racist.
Hilarious stuff from Tucker, and the perfect point about Kamala: she's the culmination of all that the Democrats have pushed. She's incompetent, unlikeable, not that bright, obviously power hungry, and has no redeeming characteristics.
But she's "diverse"! So they put her in one of the top positions of power, wanting to appear virtuous for putting a black woman in charge of things without actually having put her in charge of much of note, and now that it's looking like she might be headed toward the top spot, they're backing away.
As Tucker said, "not so fast, racists." Kamala's their pick. She's the end of the road for affirmative action, the example of what focusing on skin color and chromosomes rather than merit leads to. They've made their bed, now let them lie in it.
By: Gen Z Conservative, editor of GenZConservative.com. Follow me on Facebook and Subscribe to My Email List
This story syndicated with permission from Will, Author at Trending Politics
Notice: This article may contain commentary that reflects the author's opinion.

My Pillow Coupon Code = ILMF
Tap Here and Use It!
---


Calling All Americans! Patriot Fetch is Conservative Breaking News Headlines every day, all day. Go to PatriotFetch homepage for daily Conservative news or look below for the next hot story!