Kari Lake, a rising star in politics and the Republican nominee for governor of Arizona, has stated that she is not interested in one particular position.
She rejects the idea of running with former President Donald Trump for the position of vice president. She answered a question from Jon Karl on the ABC program "This Week" this past weekend regarding her willingness to serve as governor of Arizona for four years.
"My question is, if you're elected, will you commit to serving all four years as governor?" the host asked.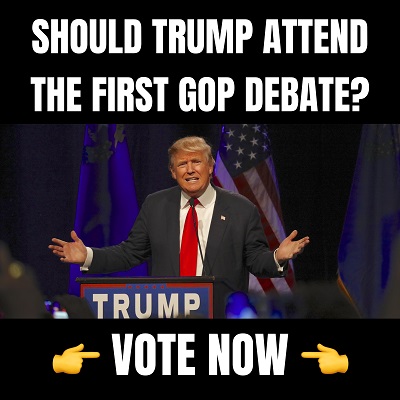 "I'm going to serve eight years as governor of Arizona," she stated.
KARL: But I'm asking, is that a commitment that you will finish your team?
LAKE: Yeah, I'm going to serve eight years. Listen —
KARL: Even if Donald Trump comes to you and says, I want you to be my running mate, you will say no because I made a commitment for me to serve —
LAKE: I just have to laugh at this question. First of all —
(CROSSTALK)
KARL: Well, I mean, I'm not asking because I think you should be his running mate, it's just that this was something written in "The National Review". And one of our top supporters, I won't say who, told me just a couple of days ago, she's the running mate if Trump runs.
LAKE: OK.
KARL: But my question was just a simple one, you're committed?
LAKE: Okay. I just — I'm hearing this a lot on the campaign trail and what I think is happening, Jonathan, is the media is trying to scare the public I'm going to leave. I am devoted and dedicated to saving Arizona —
KARL: All four years.
LAKE: — to turning it around. And I like to say I'm the fake news' worst nightmare. I'm going to be their worst nightmare in Arizona for eight years. I'm going to have two terms as governor.
On Sunday, ABC's Jon Karl presses Kari Lake to promise she won't be Trump's running mate in 2024. Lake responds by saying "the media's trying to scare the public" that I'm going to leave" office and adding "I'm the fake news's worst nightmare." pic.twitter.com/6LrMuVqANE

— Tim Graham (@TimJGraham) October 24, 2022
The Democratic Party is becoming concerned about Lake, and their worries extend beyond the state of Arizona. According to Axios, leading Democratic strategists see her as a national threat.
David Plouffe, the former top Obama strategist, said, "That's what's changed a lot in our politics. There's a performance aspect to it in both parties." He added, "Obama and Trump accelerated that change in many respects, which is that you don't have to sit around for 20 years building your case."
Similar ideas were expressed by another former Obama advisor. "If you get a candidate who has the performance skills of a major market local TV anchor and the philosophy and thinking of Steve Bannon, that's a potent and dangerous combination … Look at Italy," David Axelrod stated.
Additionally, Lake is "a more polished version" of MAGA, according to former Hillary Clinton aide Karen Finney.
"I'm sure a big part of why Trump likes her is that TV experience," she said. "In the same way he understood how to use media and avoid questions that he didn't want to answer, she certainly has that."
Last week, Lake reacted angrily to a speech by departing Wyoming GOP Rep. Liz Cheney, who urged citizens of The Grand Canyon State not to support the former newscaster from the Phoenix area and a supporter of former President Donald Trump.
After Wyoming Republican Cheney delivered a speech at the Arizona State University (ASU) campus on Wednesday in which she urged citizens to support Lake's Democratic opponent, Secretary of State Katie Hobbs, Lake directed her remarks at Cheney, who was soundly defeated in an August primary by another GOP candidate supported by Trump, attorney Harriet Hageman.
"I don't know that I have ever voted for a Democrat, but if I lived in Arizona now, I absolutely would … for governor and for secretary of state," Cheney went on to say that citizens who "care about democracy" and the "survival of our country" shouldn't support anyone who doesn't respect election results.
Cheney's remarks led to a scathing response from Lake's communications director, Ross Trumble. "Liz Cheney is confused. Auditions for CNN contributors are being held in Washington, not in Arizona. No one here cares what she has to say."
Cheney and Lake have recently exchanged jabs. Cheney pledged to do "whatever it takes" to prevent Lake from winning office during remarks at the Texas Tribune Festival last month. She even promised to support Democratic candidates to keep "too pro-Trump" Republicans out of office.
Late in September, Lake informed host Maria Bartiromo of "Sunday Morning Futures" that "the people of Wyoming can't stand" Cheney and that she was certain "the people of Arizona don't like Liz Cheney," either.
Lake reacted to Cheney's remarks. "That might be the biggest, best gift I have ever received. The Republican Party, the new Republican Party, is the party of we, the people. It is no longer the party of warmongers."
Notice: This article may contain commentary that reflects the author's opinion.
---


Calling All Americans! Patriot Fetch is Conservative Breaking News Headlines every day, all day. Go to PatriotFetch homepage for daily Conservative news or look below for the next hot story!