President Trump went nuclear on TruthSocial after liberals knowingly lied about what he said about the constitution last week. Previously, Trump had said that "some rules" may have to be overlooked in order to combat the fraud that occurred in the 2020 election.
"The Fake News is actually trying to convince the American People that I said I wanted to "terminate" the Constitution," he began on Truth Social.
"This is simply more DISINFORMATION & LIES, just like RUSSIA, RUSSIA, RUSSIA, and all of their other HOAXES & SCAMS. What I said was that when there is "MASSIVE & WIDESPREAD FRAUD & DECEPTION" as has been irrefutably proven in the 2020 Presidential Election, steps must be immediately taken to RIGHT THE WRONG. Only FOOLS would disagree with that and accept STOLEN ELECTIONS. MAGA!", he added.
Trump has a point. The media has always twisted his words to fit "their" narrative, just like with Russiagate and the many other lies they pushed.
Here's how some on reacted on Twitter:
President Trump never said he wanted to terminate the constitution, why are members of the media so dishonest?

What do they gain?

— Kimberly Klacik (@kimKBaltimore) December 5, 2022
Trump says, on truth social, that he DID not say to terminate the constitution. He said that the election was stolen and we need to right our wrongs. pic.twitter.com/5L2I1roVqA

— CCG BRYSON (@RealBrysonGray) December 5, 2022
For reference, here is Trump's original TruthSocial post that liberals are taking out of context: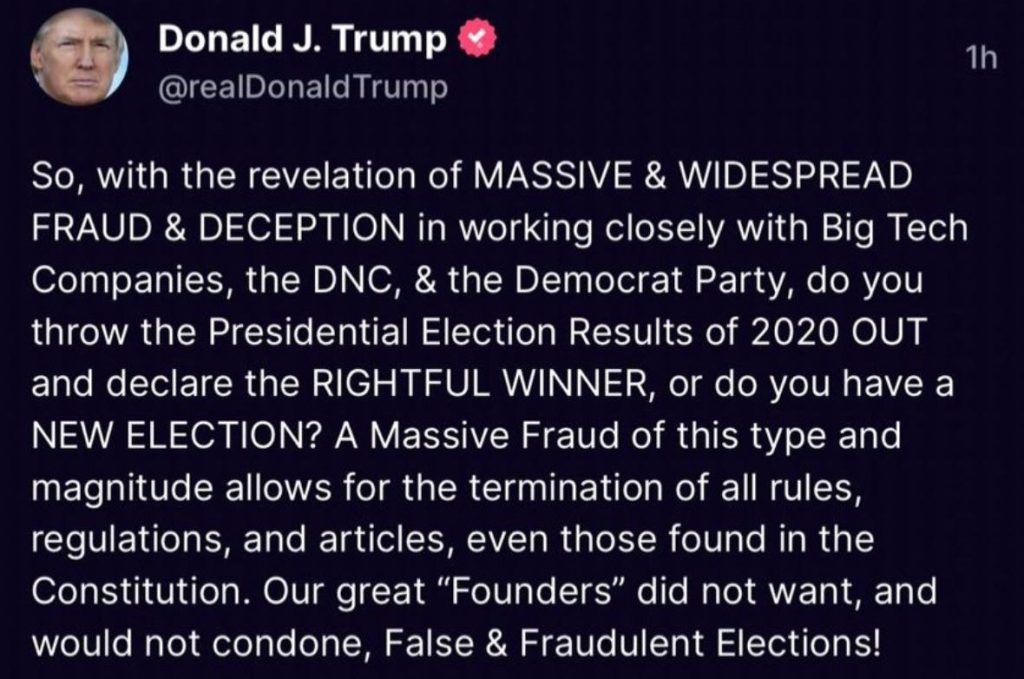 Of course, the media picked up on this story and ran with it. They claimed that Trump called to "abolish" the constitution, which just isn't true. However, it looks like they'll get away with their lies, like they always do.
This story syndicated with permission from Collin Rugg, Author at Trending Politics
"*" indicates required fields