Another day goes by and another Hollywood star, or washed up leftist actor in this case, is going on another anti-American rant. This time it's John Cusack, a clearly far-left fella who's quite disgruntled and going on a Twitter rant, despite being worth something like $50 million after spending about 40 years in Hollywood.
Regardless of having enough money to do just about anything with his life, John Cusack spends time on social media talking bad about America and this time his radical leftist outburst was full of profanity and nonsense, according to Breitbart.
Cusack ran off a string of Tweets tormenting his followers with a bitter rant against America and here's some of the things he said to his 1.7 million followers. Nothing says social media influencer like telling almost 2 million people you think America is a dumpster while you're worth more money than most of the country (eye roll and not wagging my tail on this one).
Here's a list of John Cusack's anti-America tweets:
"I was at a ballpark last night. And they did their support the troops ad – that conflate Boeing with troops serving – while supporting the gop – that means funding the insurrection – anti democratic forces – the opposite of what they claim to support – "US freedom- "

The "insurrection" where most people were socializing and taking selfies? No one can deny that there was a handful of bad acts that day on January 6, but the overwhelming majority were not committing crimes and that's one fact many on the left fail to realize. That day at the Capitol still wasn't nearly as treacherous as all the times Antifa or BLM rioted, burning buildings, looted, or attacked innocent people.
They preach freedom at baseball games – but back insurrectionist coups and the overturning of elections – abc the party that would take away black and brown Americans right to vote . Yet they get to wrap themselves in the flag ? Had enough yet ?
There is no one taking away the black and brown Americans right to vote. That's a far-left idea that is being constantly stated by Democrats who oppose Republicans trying to make sure the elections have more integrity. Democrats keep disagreeing with Republicans because that's just what they've been good at lately – disagreeing, and doing it on purpose when they don't get their way.
Let's call the USA what it is – decadent on the fast track to autocracy – living on the atavistic fumes of ww 2 greatest generation Tver actually took on fascism and beat it down – We can't even arrest open criminals in gop- nor a mentally ill white supremacist lawless thug
John Cusack must forget that people only get arrested when a crime takes place. How many politicians in general were caught doing shady things that were not technically crimes, but likely not crimes because of the laws politicians put in place. Take one look at political figures like Nancy Pelosi and Maxine Waters – people who've stayed in office for decades and accomplished what? If one can't consider being a lifetime politician a crime, then what is?
We aren't great – we aren't even mediocre – we're fucking awful – full of cowards and corporate whores – Boeing gets to take out tax dollars – parade our soldiers – wrap themselves in the flag – while financially backing fascists ? We have no leaders – no soul – Just greed –
Someone worth millions should not say things like this. Would John Cusack be worth the same amount of money in socialist Venezuela? Likely not, he'd be eating rodents in the streets and picking bread crust out of trashcans. Cusack would be bathing in a puddle while not having any money or shoes. Instead, Cusack is a wealthy Hollywood actor who's built his career on the back of Hollywood in the sense that it's a major corporation itself who sells entertainment to the world.
The only problem there is when the entertainment turns into a political mouth bucket full of anti-American sewage. Cusack trashes the country that allowed him to become the rich man he is, which tells us exactly what kind of miserable person he must be.
It must be sad to have that many millions and still be a miserable leftist.
No wonder he seems like a Bernie Bro.
Notice: This article may contain commentary that reflects the author's opinion.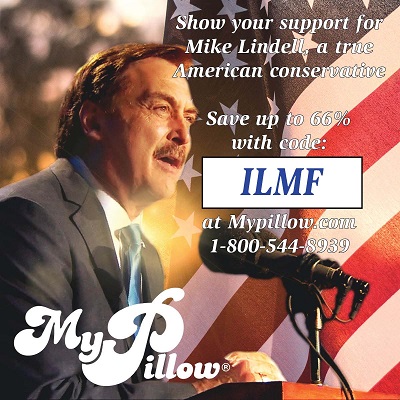 My Pillow Coupon Code = ILMF
Tap Here and Use It!
---


Calling All Americans! Patriot Fetch is Conservative Breaking News Headlines every day, all day. Go to PatriotFetch homepage for daily Conservative news or look below for the next hot story!