First allow me to preface this article by observing, "it couldn't have happened to a nicer guy."

Arrogant self-aggrandizing progressive Senator Sheldon Whitehouse has just been given an ultimatum to either cut his association with an "all white" country club, or feel the wrath of BLM. You'll remember them as the extremist Marxist group known for causing mayhem around the country.

The 65 year-old Rhode Island Democrat has until next Friday to cut ties with the prissy "all white" Newport-based Bailey's Beach Club.

The radical group has vowed if Whitehouse doesn't sever his ties to the country club they'll make his life miserable

"We'll go to his club, we'll go to his office, we'll go to his home — wherever we need to go," one of the chapter's directors, Mark Fisher, vowed.
ONLY ON @ABC6: well-known member of BLM R.I. has a message for @SenWhitehouse tonight; cut all ties w/ Bailey's Beach club by the end of next week or resign

Mark Fisher w/ BLM says, if the senator doesn't act, there could be protests outside the club, Whitehouse's home, & office pic.twitter.com/WEHrlxx8Ey

— Darren Botelho (@DarrenBotelho) July 29, 2021
He added, "This is an issue that's not going to go away and Senator Whitehouse needs to address it, he needs to take it on."

The dust-up between the progressive senator and the hate group began over a month ago when BLM allegedly found out that Whitehouse (along with members of his family) belong to the controversial club. Whitehouse has denied belonging to the club and insisted that it wasn't his place to tell family members which clubs to join or which to quit.

In a long drawn out statement, Whitehouse attempted to spin the facts in his favor, attempting to justify the apparent discrimination that exists at the club. He acknowledged that his wife and family members hold memberships at the club; however he would not ask them to resign, for two reasons:

"First, they are on the right side of pushing for improvements. Second, and more importantly, my relationship with my family is not one in which I tell them what to do."

Ironically the Whitehouse clan has more than a passing interest in the "all white" club, in that Sheldon's wife Sandra, is one of the largest shareholders of the club
Democrat Racist Sheldon Whitehouse is part of an all White country club… he said it's a long tradition pic.twitter.com/cydvCtl3f4

— Impact USA (@impactusa8) June 21, 2021
Also according to the Providence Journal, the management at Bailey's Beach Club insists that BLM's assertions are "inaccurate and false."

Stating; "Over many years, Club members and their families have included people of many racial, religious, and ethnic backgrounds from around the world who come to Newport every summer," the statement read. "Our membership comes from all over the globe to our small club and we welcome the diversity of view and background they bring to our community."

However, those denials by both Whitehouse and Bailey's Beach Club aren't enough to stop the planned protests by the Marxist group

"If he thinks we're just going to forget about it, if he thinks that it's going to get swept under the rug — it's not."

Fisher reiterated to reporters; "This club is a proven racist club with exclusive ties to supremacy and exclusion, and that's something that's not gonna be tolerated by me, by my associates, my affiliates or my organization."

The irony for principled conservatives witnessing the public airing of dirty laundry between two far left ideologues is priceless.

Least we forget BLM is a radical Marxist hate group that uses race to advance their Neo-Communist agenda by blackmailing businesses. Meanwhile the junior senator from Rhode Island has a history of slandering conservatives for political expediency.

Just recently Whitehouse once again vilified Supreme Court Justice Brett Kavanaugh suggesting that the FBI background check regarding sexual assault claims against the 56 year old Justice in 2018 may have been "faked."

Of course there's no evidence to suggest that, however in Whitehouse's progressive utopia that doesn't matter, "the ends always justifies means." Hopefully Whitehouse will get a dose of his own medicine, by way of BLM.
Notice: This article may contain commentary that reflects the author's opinion.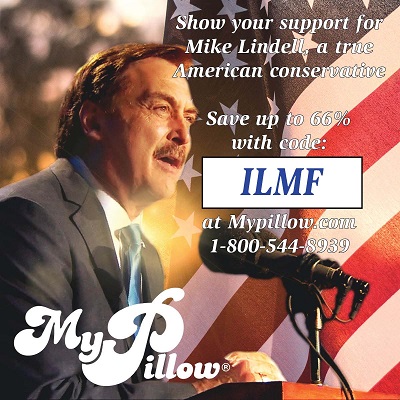 My Pillow Coupon Code = ILMF
Tap Here and Use It!
---


Calling All Americans! Patriot Fetch is Conservative Breaking News Headlines every day, all day. Go to PatriotFetch homepage for daily Conservative news or look below for the next hot story!