Texas Governor Greg Abbott has "thrown down the gauntlet," on whether a sovereign state as a right to protect its citizens against an invading force of illegal criminal aliens.

On Thursday the Biden Justice Department headed by Attorney General Merrick Garland sent a letter to the governor threatening to file a lawsuit against the "Lone-Star" state for interfering with federal immigration law.

At issue is a new Executive Order signed by Abbott authorizing Texas State Troopers to stop and turn around suspected vehicles transporting illegal aliens across the state.
Garland's letter in part stated that Abbott's Executive Order is "dangerous" and also "contrary to federal law and cannot be enforced." The AG also claimed that the order is unconstitutional, as it "interferes with federal immigration enforcement" and also obstructs the "release of individuals and the ability of those individuals to comply with federal immigration law."

The 63 year old governor issued the order after a number of human smugglers along with Mexican drug dealers were involved in several dangerous instances involving Texas ranchers and homeowners.
We are fighting for the public safety of Texans who live on the border.

We are providing law enforcement plus National Guard.

We are beginning to build a wall.

We are working to prevent entry by illegal migrants with Covid. pic.twitter.com/2WZ0NQ1wKz

— Greg Abbott (@GregAbbott_TX) July 31, 2021
The governor after receiving the letter from the AG threatening litigation, issued a blistering rebuttal of his own, accusing the Biden Administration of "jeopardizing the health and safety of Texans on a daily basis."

"It is clear that the Biden Administration fundamentally misunderstands what is truly happening at the Texas-Mexico border. The current crisis at our southern border, including the overcrowding of immigration facilities and the devastating spread of COVID-19 that the influx of non-citizens is causing, is entirely the creation of the Biden Administration and its failed immigration policies."

Abbott's order went into effect on Wednesday allowing only federal, state, and local law enforcement officials the authority to transport illegal immigrants that have been detained at the border, attempting to cross the US-Mexico border.
Border patrol officers are grateful for the extra support at the border.
@GregAbbott_TX has maximized available resources in Texas and Republican governors like @KristiNoem are stepping up to fill the void created by the Biden administration's inaction. pic.twitter.com/i1xi56pS8k

— The RGA (@The_RGA) July 28, 2021
The order also authorizes Texas State Troopers to stop any vehicle "on reasonable suspicion" that it is violating the order. If the violation is confirmed state troopers are ordered to turn those vehicles around, back to its point of origin or at a border crossing checkpoint. If the driver does not comply, the vehicle will be impounded.

The order came after it was revealed that COVID-19 infections among illegal migrants within the Rio Grande Valley rose over 900% from the previous 14-months.

The La Joya Police Department also confirmed that Border Patrol Agents were ordered to release migrant families who tested positive for the virus to Catholic charities, who intern would house them in hotels located in McAllen Texas.

Abbott cited the La Joya incident in his executive order, adding that, "President Biden's refusal to enforce laws passed by the United States Congress cannot be allowed to compromise the health and safety of Texas by knowingly exposing them to COVID-19."

Just recently an accused human smuggler transporting 12 illegal aliens was apprehended after a dangerous high speed car chase in which he smashed his SUV in front of a homeowner's house.

Both Texas state troopers and US Border Patrol agents joined the 40-minute chase Saturday in McAllen on the US border with Mexico.

Fox Los Angeles reporter Bill Melugin shared dramatic photos of the wrecked red SUV, mangled on the front lawn, after crashing through the fence and landing just a few yards from the homeowner's front door.

Melugin reported, "The smuggler bailed out of the vehicle and was caught by State Troopers & Border Patrol. He will be charged with felony evading & human smuggling."

It's not exactly clear where federal immigration law begins and where a sovereign state can intervene, in order to protect its citizen. Obviously immigration law is federal law; however Abbott's Executive Order may in fact legally thread the needle.
Notice: This article may contain commentary that reflects the author's opinion.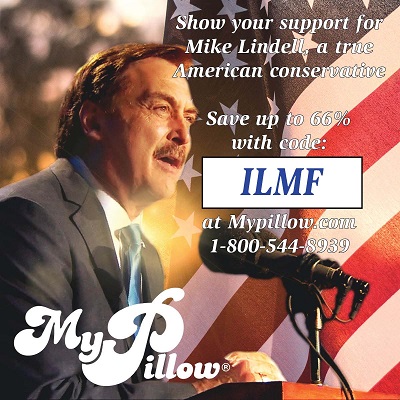 My Pillow Coupon Code = ILMF
Tap Here and Use It!
---


Calling All Americans! Patriot Fetch is Conservative Breaking News Headlines every day, all day. Go to PatriotFetch homepage for daily Conservative news or look below for the next hot story!