Big tech giants are using AI to censor and control what you are able to see, read and discuss online.
Similar to what human editors are doing on Facebook, Twitter ETC, radicals who have been empowered to block or tag information they subjectively don't like, are increasingly stopping the flow of information through the Internet.
Using Artificial Intelligence and even a pajama boy in his mom's basement, websites like Infowars and The Gateway Pundit are having their content links blocked by the carriers.
T-Mobile has joined other big tech companies by censoring what content they will allow being included in texts. Links appear to be sent to a family member or friend but the recipient will not receive any texts containing censored links. Those to who the texts were sent don't know the links were removed.
A Gateway Pundit reader "Mark from Louisiana" sent them an email on Friday:
Hi. I live in Louisiana but I have a 949 area code phone from when I lived in California. When I try sending a text with your website link in it, the link does not go through to my friends and family. My sister is in the 225 area code and she can send the link to me without it being blocked. Just thought I would let you know. Thanks. Mark
Gateway Pundit asked Mark to send us more information and this is what he sent back.
Hi Jim. In one of the screenshots, you can see where my sister tried to send me your website link four times but I never got it. The other two screenshots it shows me sending a link to one of your articles, that's the one with the picture of the fox in it. In the other screenshot from my sister it shows that she never received the link. The text message it still has the fox in it. I hope this helps. But what I realized is it's actually just my boost T-Mobile carrier that's blocking your links. I have a friend in the 949 area code and he was able to send it to his wife, however, I can only receive it in a group text. Let me know if you have any more questions. Thanks. Mark.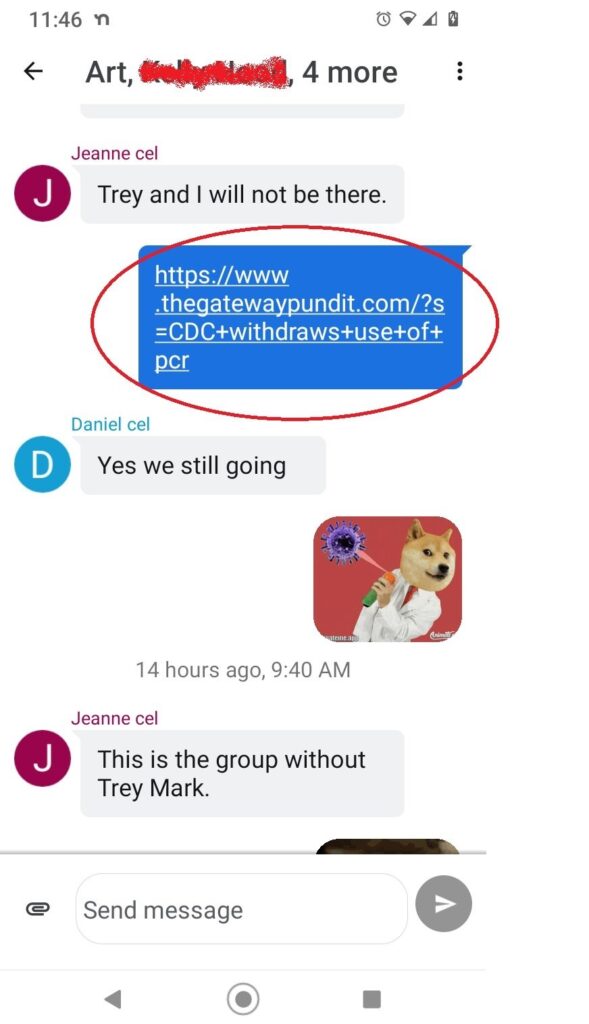 And here is what she received. The Gateway Pundit link has been "disappeared."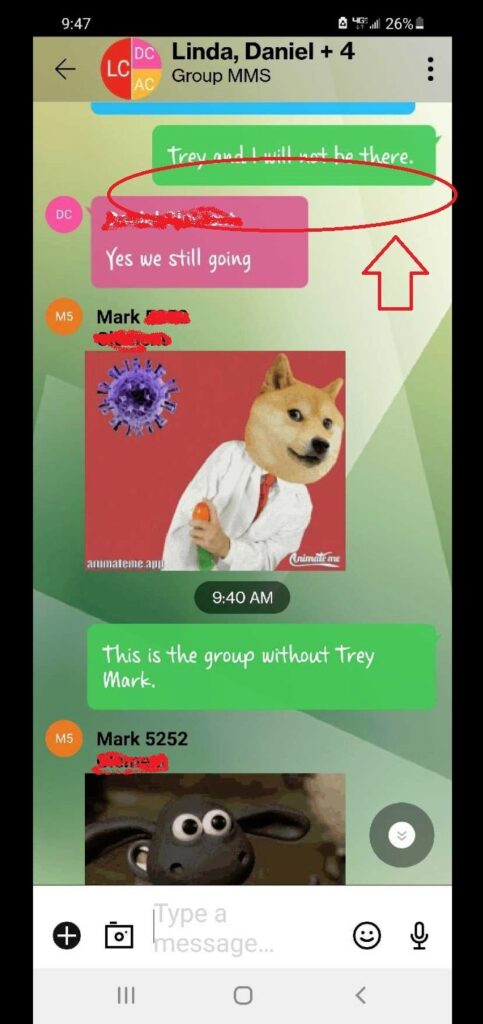 Gateway Pundit Reader Scott:
I am on the Sprint network and have to get a new phone to transition to the T-Mobile network. But the phone I texted recently went on the T-Mobile network; we live in the 757 area code in Virginia. And as you can see the link I sent to the article did not go through. It should be there right before the text that did which just said Test.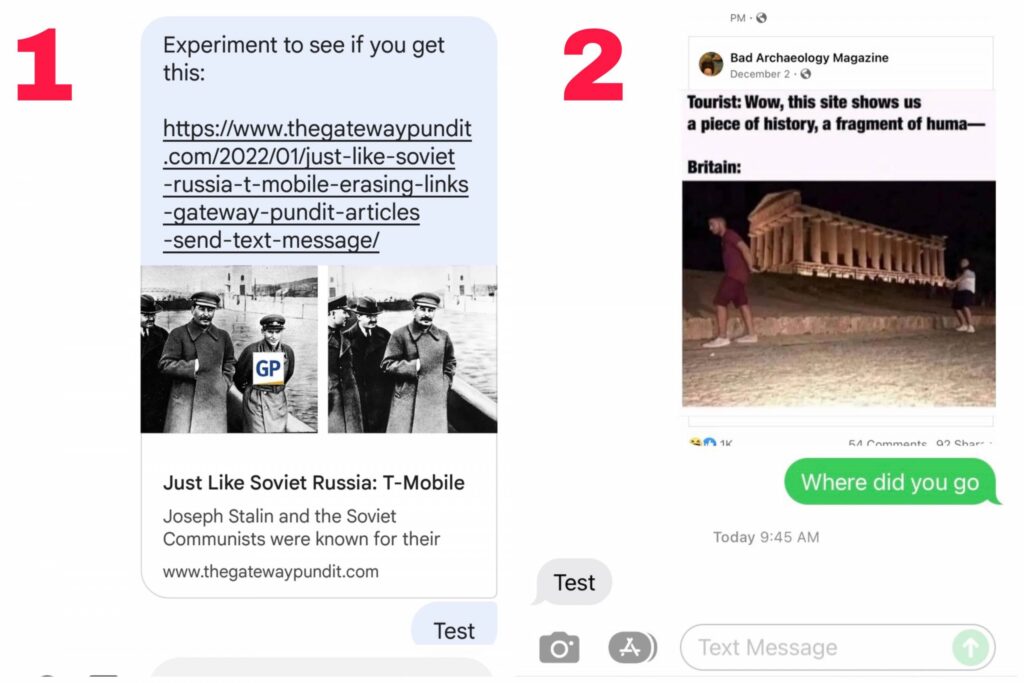 A Gateway Pundit reader recently reached out to T-mobile through chat support and was sent a link to a Reuters article discussing an FCC decision on censoring texts. The decision was actually meant to stop robotexts and spam messages, not individual texts. The customer service representative admitted that the carrier has been censoring websites via the transmission of text messages.
According to TGP reader Nathan, when he pointed out that the decision from FCC was not meant for individual texts, a T-mobile rep defended and admitted that they could censor for other reasons as well. The rep also admitted that other mobile networks are censoring our text messages as well.
Here's the transcript from their chat:
Skye G.: Hey there! Thank you for reaching T-Mobile Messaging, this is Skye, your Magenta expert for today. It would be my pleasure to assist you with your concerns about messages. Rest assured before this chat ends we have already solved it.
You: Good morning, I just attempted to text a link to a Gateway Pundit article to my father, also a T-Mobile customer and it did not go through. However, a link to Toys-R-Us did go through
You: The link was on T-Mobile censoring text messages
You: Is this true? Is T-Mobile actively censoring text messages?
Skye G.: Oh, sorry to know about the inconvenience this has caused you. I can see that you want to send a text message to a link that didn't go through. May I know if you see any error message when you tried to send the text message?
You: No, I see the link to the Gateway Pundit article on my phone, but my father does not receive it.
You: However I sent a link to the ToysRUs website and it went through
Skye G.: I see. Thanks for letting me know. Here's what we are going to do today, we will perform basic troubleshooting steps on your device. In the event the issue persists after the steps, I will need to connect you to our dedicated technical team through chat so you can perform more advance steps. May I know if you are able to perform the steps with me now?
You: I'm chatting with you on my phone.
You: Why would a link for one website go through, but not for another?
Skye G.: Because there are other sites that are censored by the network. And it must be that the site you are trying to access is censored by Sprint now part of T-mobile.
You: You are now censoring websites that talk about censorship? Are you kidding me? I have my doctorate degree in law and do you think T-Mobile is going to dictate the information I read or share?
You: https://www.thegatewaypundit.com/2022/01/just-like-soviet-russia-t-mobile-erasing-links-gateway-pundit-articles-send-text-message/

You: So the article is not false, it is absolutely true and you are censoring it?
Skye G.: Oh, sorry to know about that. However, you can read this article regarding the censoring of messages on every networks in the US that stated, " FCC Commissioner Jessica Rosenworcel, a Democrat, said the vote means "you no longer have the final say on where your text messages go and what they said. That means your carrier now has the legal right to block your text messages and censor the very content of your messages." https://www.reuters.com/article/us-usa-fcc-texts-idUSKBN1OB2FP
You: Myself and my family members will be moving to another carrier as soon as possible
You: Good riddance, we the people will spend our money elsewhere. Tell that to your communist company!
Skye G.: Oh, that is really sad to know that you are considering to cancel the services due to this reason however please know that all networks in the US are all have censoring ability for sites. This same goes with AT&T and Verizon too. The FCC voted 3-to-1 to classify text messages as an information service rather than a telecommunications service, which it said would have limited the ability of wireless carriers to combat robotexts and spam messages.
You: That isn't a Robo text or a spam message!
Skye G.: Yes, I understand however, that is only one of the reasons why the network censored messages. It is not really mean that the message you are sending is already under spam or robotext.
You: Companies like yours are the true fascists. They block speech they do not like. Why was the link blocked if it was not spammed or robotext?

Skye G.: That is why we will be trying to perform basic troubleshooting steps since the message you are trying to send is not under robotext or spam to see what happened.
This is unacceptable and the reason why hundreds of thousand of cell customers have switched to patroitic companies like Patriot Mobile or PureTalk.
Written By: Eric Thompson, host of the Eric Thompson Show.
Follow Eric on his website ETTALKSHOW, and social media platforms, MAGABOOK, Twellit & Twitter.   
This story syndicated with permission from Eric Thompson – Trending Politics
Notice: This article may contain commentary that reflects the author's opinion.
---


Calling All Americans! Patriot Fetch is Conservative Breaking News Headlines every day, all day. Go to PatriotFetch homepage for daily Conservative news or look below for the next hot story!