There are corrupt activities taking place in our government yet no one is getting held accountable for them.
One main issue is the constant flow of information coming out of the shadows showing Dr. Fauci's fingerprints all over the COVID grants, the companies coordinating the virus research in China ETC.
U.S. Senator and Doctor Rand Paul has directly accused Fauci several times of lying about funding the "gain of function" research at the Wuhan Institute of Virology.
Newly uncovered documents reveal that EcoHealth Alliance, a Fauci-funded firm that spearheaded the Gain of Function research in China and helped cover up the lab origins of the COVID-19 virus, has been exposed for pushing to keep relevant Covid-19 sequencing data hidden from the public.
EcoHealth Alliance President Peter Daszak opposed the public release of Covid-19-related virus sequence data gathered from China as part of the U.S. Agency for International Development's (USAID) PREDICT program, according to emails obtained by U.S. Right to Know.
According to emails obtained through a FOIA request by non-profit government accountability watchdog 'U.S. Right to Know," EcoHealth Alliance President Peter Daszak pushed to hide the sequencing data that was gathered from China as part of the U.S. Agency for International Development's (USAID) PREDICT program – a "virus hunting" project that is supposed to track unknown viruses.
From US Right to Know:
"The emails were released as part of a California Public Records Act request to UC Davis. They do not contain attachments and so the actual viral sequence data are not included in the information received by U.S. Right to Know.

It  is not known whether the data referred to in the emails are still embargoed or were subsequently shared on GenBank.

EcoHealth Alliance denied that any sequences were kept out of GenBank. In response to a query, Daszak emailed an August 2020 Nature Communications article co-authored by EcoHealth and Wuhan Institute of Virology scientists, and wrote: "All sequences of SARS-related coronaviruses discovered by EcoHealth Alliance in China were sequenced using NIH funding and have been made public in peer-reviewed scientific papers and via the publicly available Genbank database.

The Genbank accession numbers for over 600 sequences can be found in the attached paper. Two further sequences were identified and submitted separately to NIH on 11/18/21  (Genbank Accession # OK663614 & OK663615).'"
Daszak's unearthed emails, which are from late April 2020, show a conversation between employees of EcoHealth Alliance and Metabiota – a Google-backed US biotechnology company that works with USAID's PREDICT – on whether or not COVID genetic sequences should be included in a public database.
Hongying Li, an operative with the EcoHealth Alliance, made the initial push to suppress the crucial information. Her justification for the stunning lack of transparency?
From Li's email:
"Due to the COVID-19, any relevant data publication needs to be reviewed and approved by the institution in China."
Daszak agreed with Li, calling it "very important" to ensure data from the USAID PREDICT program is not shared with the public. He even admits that the cover-up is to avoid a political firestorm over the fact that EcoHealth's NIH funding for gain of function research had just been terminated.
From Daszak's email:
"It's extremely important we don't have these sequences as part of our PREDICT release to Genbank at this point. As you may have heard, these were part of a grant just terminated by NIH.

Having them as part of PREDICT will being [sic] very unwelcome attention to UC Davis, PREDICT and USAID."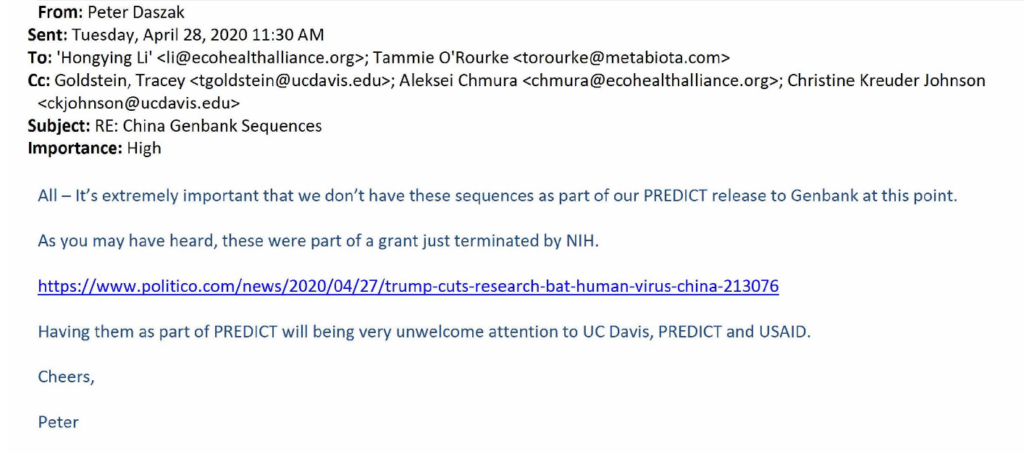 Well, America here is the latest trove of proof that the entire set of events concerning the Genesis of the idea of doing this risky research all the way to the global COVID pandemic must be released so this is not repeated.
The reason this probably will not happen is the powerful in DC and around the world will continue blocking access, trying to prevent jail time, and hoping this demand for justice will simply fade away with time.
Written By: Eric Thompson, host of the Eric Thompson Show.
Follow Eric on his website ETTALKSHOW, and social media platforms, MAGABOOK, Twellit & Twitter.   
This story syndicated with permission from Eric Thompson – Trending Politics
"*" indicates required fields