President Biden's policies have managed to take a fast recovering, energy-independent nation and flip it upside down in less than a year.
By closing pipeline construction, the U.S.is once again energy-dependent. As a result, gasoline and home energy cost are way up. In addition, COVID cases, and racial tension have also skyrocketed nationwide.
More bad news for Biden was just reported. U.S. inflation hit its fastest pace in nearly four decades last year as pandemic-related supply and demand imbalances, along with stimulus intended to shore up the economy.
The Labor Department said Wednesday the consumer-price index—which measures what consumers pay for goods and services—rose 7% in December from the same month a year earlier, up from 6.8% in November. That was the fastest since 1982 and marked the third straight month in which inflation exceeded 6%.
"The all items index rose 7.0 percent for the 12 months ending December, the largest 12-month increase since the period ending June 1982. The all items less food and energy index rose 5.5 percent, the largest 12-month change since the period ending February 1991. The energy index rose 29.3 percent over the last year, and the food index increased 6.3 percent," BLS reported.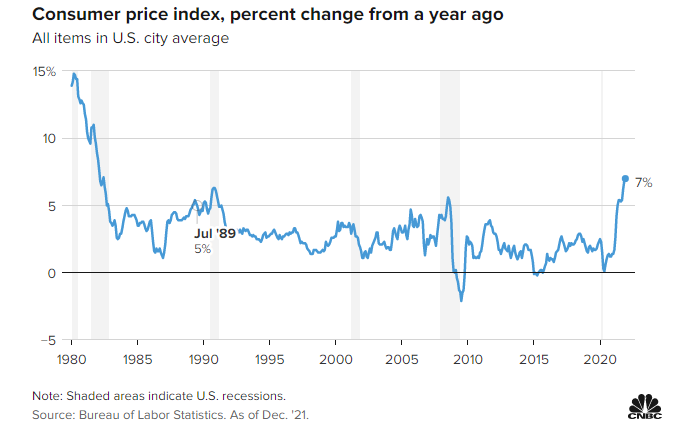 The CPI rose by 0.5% in December, which was a slower increase than the 0.8% in November.
"The Consumer Price Index for All Urban Consumers (CPI-U) increased 0.5 percent in December on a seasonally adjusted basis after rising 0.8 percent in November," BLS noted. "Over the last 12 months, the all items index increased 7.0 percent before seasonal adjustment."
Rising prices have been hitting Americans in the wallet.
"President Biden and Democrats in Congress won't stop their reckless spending until inflation is so high that your paycheck and retirement savings are worthless," Rep. Mary Miller (R-Ill.) tweeted.
Some GOP lawmakers have described inflation as a tax.
Inflation is a tax on every American. Period.

— Markwayne Mullin (@RepMullin) January 12, 2022
Rep. Jody Hice of Georgia tweeted that "Inflation is theft."
Inflation is theft.

— Rep. Jody Hice (@CongressmanHice) January 12, 2022
Democrats continue to argue that passing the Biden administration's massive Build Back Better spending proposal would alleviate inflation by lowering prices.
"The Build Back Better act addresses inflation by lowering child care, energy, housing and healthcare costs for everyday Americans," Democratic Rep. Hakeem Jeffries of New York tweeted.
The Build Back Better act addresses inflation by lowering child care, energy, housing and healthcare costs for everyday Americans.

Republicans talk about inflation.

House Dems are doing something about it.

— Hakeem Jeffries (@RepJeffries) January 12, 2022
In order to ram the legislation through the Senate, the entire Senate Democratic caucus would need to get on board, but Democratic Sen. Joe Manchin of West Virginia said last month that he would not support passage of the plan.
"Today's report—which shows a meaningful reduction in headline inflation over last month, with gas prices and food prices falling—demonstrates that we are making progress in slowing the rate of price increases," President Biden said in a statement about the consumer price index. "At the same time, this report underscores that we still have more work to do, with price increases still too high and squeezing family budgets."
While the president claimed that food prices are falling, the consumer price index news release indicates that the food index actually rose 0.5% in December, which marked a slower pace than it had risen in recent months.
Most of the financial experts I am following are predicting a tough 2022 too as the Biden administration has not demonstrated the ability to turn things around.
For those who believe in the Great Reset, those in power are actually salivating at the declining economy hoping to deconstruct our capitalistic system by 2030.
Written By: Eric Thompson, host of the Eric Thompson Show.
Follow Eric on his website ETTALKSHOW, and social media platforms, MAGABOOK, Twellit & Twitter.   
This story syndicated with permission from Eric Thompson – Trending Politics
"*" indicates required fields