Once upon a time, the homosexual community would march in the streets demanding tolerance from the American culture. Then they moved to demanding acceptance of the "alternative lifestyles".
Once they were empowered with the backing of most of the media and liberal news outlets, the LGBTQA++++ WOKE mob has pushed through "hate speech laws in blue states and are now demanding cultural promotion of their Gender Dysproia driven lifestyles.
As part of their activists' agenda, universities around the U.S. have bought into Critical Race Theory and social justice causes and have added mandatory classes promoting these radical ideologies to those attending their schools.
Even though colleges were started as centers of higher learning where the expression and debate of ideas were ideal, in today's America though, you might receive death threats if you object to their radical indoctrination.
In another example, two Western Carolina University (WCU) students who work as Resident Assistants (RA) for the school say they have been mocked by faculty and received death threats after they spoke out against the school's "woke" racial and gender training.
Fox News reported that the RAs said they have been mocked by faculty boasting that they are "proud" to be "woke." The students said they have also received calls to be fired.
Last week, the students described what they experienced in the school's racial sensitivity and gender training.
In the racial training, the students said they were shown slides warning against "denying" the "racial experience" of anyone else by saying, "When I look at you I don't see color." The students were also told that calling America a "melting pot" could be considered offensive, with people assuming the person saying it is actually insisting "you should assimilate to the dominant culture."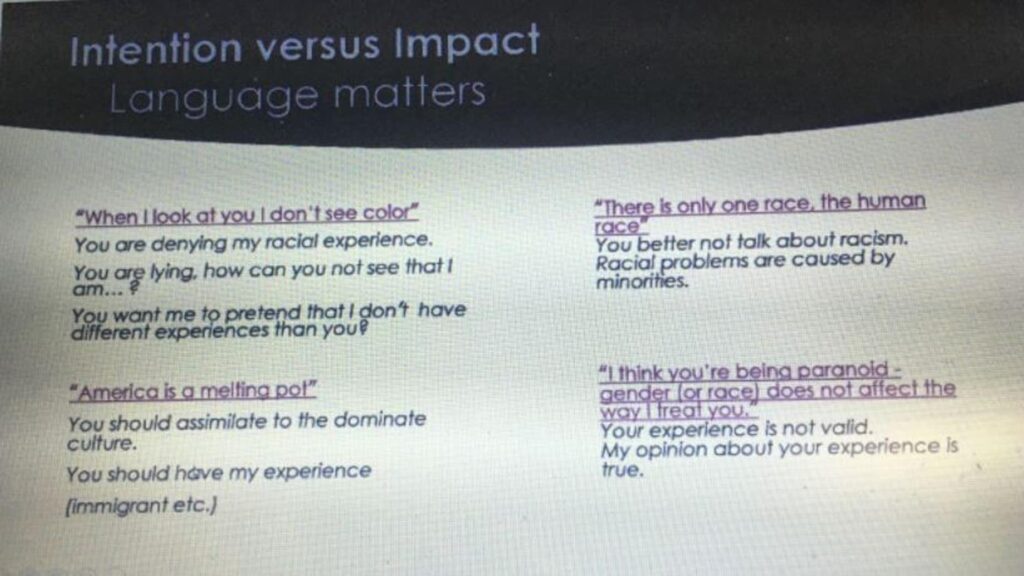 As Fox reported, "The RAs were also introduced to a 'gender unicorn' which outlined the many variations of 'gender identities' and 'gender expressions' that students might identify by while also being told that sex and gender have nothing to do with genitalia."
After exposing the training sessions, the students were subjected to mocking from members of the Western Carolina Faculty Senate, who used their claims to raise money for a favored liberal political organization.
"Creating a fundraiser in response to the manufactured outrage and fear-mongering inherent in stories like this one that seek to make work towards diversity, equity, and inclusion scary," Laura Wright, president of the Faculty Senate, posted on a fundraising website, according to Fox. "Thanks for some great material, though."
The fundraising website referred to the Fox report on the training as "stupid" and allowed people to purchase a shirt that mocked the two students after they called the school "Woke Carolina University."
"Proud to be Woke U, home of the fighting Gender Unicorns," the shirt says.
Multiple faculty members donated to the fundraiser – a social justice-aligned legal fund. Those faculty members include associate professor Amy Murphy-Nugen, associate professor Pamela Duncan, and assistant professor Amy Rose, Fox reported.
The Faculty Senate's official Facebook Page also publicly mocked the students, claiming their concerns were "manufactured outrage" and reiterating that they were "proud" to be "woke.
That post and a similar post on Instagram were eventually deleted after Western Carolina RA Katie Sanders and Western Carolina TPUSA Campus Coordinator Chris Stirewalt appeared on Fox & Friends First, the outlet noted.
The school's chancellor sent out an email to WCU alumni insisting to potential donors that the "gender unicorn" training was taken "out of context."
"The highlighted training was meant to make our RAs aware of multiple points of view; understand that our students have different backgrounds, and provide techniques to assist them with communication," the email from WCU Chancellor Kelli R. Brown said. "Western Carolina University's goal is to ensure that all students feel comfortable and at home in our residence halls."
Written By: Eric Thompson, host of the Eric Thompson Show.
Follow Eric on his website ETTALKSHOW, and social media platforms, MAGABOOK, Twellit & Twitter.   
This story syndicated with permission from Eric Thompson – Trending Politics
Notice: This article may contain commentary that reflects the author's opinion.

My Pillow Coupon Code = ILMF
Tap Here and Use It!
---


Calling All Americans! Patriot Fetch is Conservative Breaking News Headlines every day, all day. Go to PatriotFetch homepage for daily Conservative news or look below for the next hot story!