The pro-abortion industry originally relied on public ignorance and science's incomplete understanding of the stages of developing babies in the womb.
As a result, a racist eugenist named Marget Sanger worked tirelessly through Planned Parenthood to abort (kill) as many people of color and with disabilities as she could for the "benefit of the society."
Racism, Eugenics, & Hatred: The Truth Behind Planned Parenthood Founder Margaret Sanger. 
After the truth came out about Sanger, some of the Planned Parenthoods removed images and the mention of her from their facilities.
Decades later, pro-life groups in the black community are speaking out and working to put an end to the abortion industry, especially in urban areas.
In Washington, DC on Wednesday, The Center for Urban Renewal and Education (CURE) released its investigative report on the latest strategy of the abortion industry to target the black community.
CURE, a policy and research center devoted to fighting poverty and helping black families to develop their communities, held a press conference unveiling its report titled "The Impact of Abortion on the Black Community."
CURE explains in a press announcement its new report "delves deeply into the latest tactics of the abortion industry to especially target African Americans," and adds:
Planned Parenthood, the nation's leading abortion provider, has recently acknowledged and sought to distance itself from their racist founder, Margaret Sanger, yet the intentions of the organization remain the same: promoting abortion in minority communities. They are building mega-clinics and promoting abortion pills in these communities, even as they have exploited the pandemic to make chemical abortions more widely available on college campuses via telemedicine and through the mail.
Speakers included Star Parker of CURE; Jonathan Alexandre of Liberty Counsel Action; Ryan Bomberger of Radiance Foundation; Necho Carroll of CURE; Marjorie Dannenfelser of the Susan B. Anthony List; and Angela Minter of Sisters for Life.
From their website – The Impact of Abortion on the Black Community
Star Parker and fellow leaders refute appellants' argument that racism and systemic discrimination are justification for publicly funded abortions, arguing that such a policy "means hurting the Black Women and communities that they claim to serve . . . If our goal is to improve access to beneficial healthcare for Black communities, abortion is not the way."Dr. Alveda King, pro-life leader and niece of Dr. Martin Luther King, Jr.
"Abortion and racism are both symptoms of a fundamental human error. The error is thinking that when someone stands in the way of our wants, we can justify getting that person out of our lives . . . We create the deceptions that the other person is less worthy, less human. We are all fully human. When we face this truth, there is no justification for treating those who look different than us as lesser beings. If we simply treat other people the way we'd like to be treated, racism, abortion and other forms of inhumanity will be things of the past."
In a 2021 Amici Curiae ("friend of the court") brief that defends the State of Pennsylvania's restriction on Medicaid funding of abortion, nationally recognized leaders in the black community – including Center for Urban Renewal and Education (CURE) Founder and President Star Parker – argue that black women have been subjected to "the predatory objectives and actions of the abortion industry, especially Planned Parenthood. From its inception, the abortion industry has sought to control and hinder the growth of the Black population, a core objective of the movement's founders."
The Abortion Consumer
Disproportionately, the leading consumer of abortion services is the African-American female. According to the United States Census Bureau and the Centers for Disease Control and Prevention's (CDC) Abortion Surveillance Report, black women made up 15 percent of the childbearing population in 2018, yet obtained 33.6 percent of reported abortions. Black women have the highest abortion ratio in the country, with 335 abortions per 1,000 live births. Percentages at these levels illustrate that about 20 million black babies have been aborted since 1973.
According to CDC, states that report abortion by ethnicity show black women disproportionately lead in the numbers. For example, in Mississippi, 72 percent of abortions are obtained by black women; in Washington, D.C., 55 percent; in Michigan, 50 percent; in Alabama, 62 percent. In many states, similar numbers are found, with black women often aborting at two or more times their presence in the population.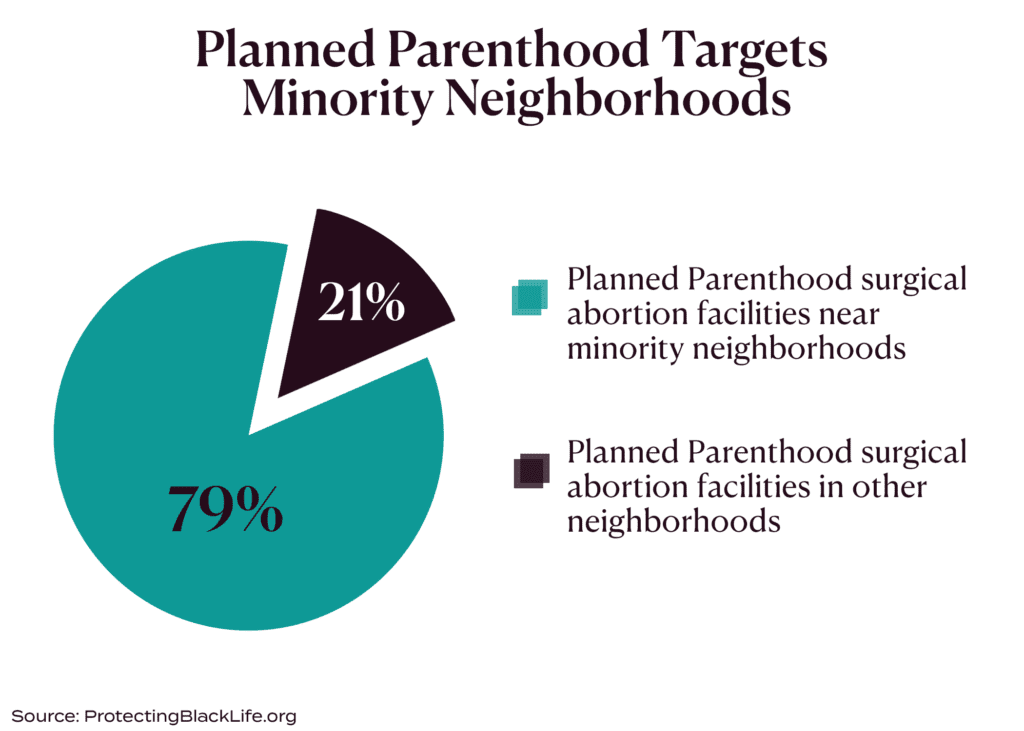 The prevalence of abortion facilities within and near minority communities serves as a major contributor to the rate at which black women obtain abortions. Accordingly, black women are significantly more likely to have an abortion than white women.
A 2012 study released by Protecting Black Life, an outreach of Life Issues Institute, used 2010 Census data to conclude that, "79% of Planned Parenthood's surgical abortion facilities are strategically located within walking distance of African-American and/or Hispanic communities."
In 2017, Life Issues Institute analyzed Planned Parenthood's placement of 25 new abortion mega centers and concluded that all of the facilities were within walking distance of minority neighborhoods. The Institute further stated that, "80 percent target black communities."
I have added this group to my prayer list as it is time to end abortion.
Modern technology shows us exactly what is taking place during the stages of development leaving all rational people to see that babies do suffer during the various procedures.
We can and must do much better as a civilized society in protecting the most vulnerable.
Written By: Eric Thompson, host of the Eric Thompson Show.
Follow Eric on his website ETTALKSHOW, and social media platforms, MAGABOOK, Twellit & Twitter.   
This story syndicated with permission from Eric Thompson – Trending Politics
Notice: This article may contain commentary that reflects the author's opinion.
---


Calling All Americans! Patriot Fetch is Conservative Breaking News Headlines every day, all day. Go to PatriotFetch homepage for daily Conservative news or look below for the next hot story!