When the wealthy and connected consider what universities they would be open to sending their children to, Yale is probably part of the conversations.
With an average annual cost of $79,370, the qualities the students bring to them include reasoning and critical thinking. Yet with all of this being said, Yale is treating their students as part of the collective instead of individuals this semester.
Students at Yale University will be banned from patronizing local businesses and restaurants over COVID-19 concerns, despite the school mandating booster shots to attend.
The Ivy League university – which has 58 percent of students living in on-campus housing – made the announcement in an email Tuesday afternoon.
Yale Daily News reported the university's new policy in a tweet. It is part of the school's campus-wide quarantine, in effect until Feb. 7, and requires students to stay in their residences "until they receive results of an arrival test."
The university announced the quarantine last month and will hold remote classes for two weeks until the quarantine is lifted.
Dining is grab-and-go until public health conditions improve. Yale is currently set to resume in-person classes on Feb. 7 — after two weeks of remote instruction.

— Yale Daily News (@yaledailynews) January 4, 2022
"Omicron has been detected within the Yale Community, as it has been in the city and state, but the delta variant is still dominant," Dean of Student Affairs Melanie Boyd wrote in a Wednesday email to the News. "At this point, I am very hopeful that Yale College students will be able to finish the semester in person, continuing to follow careful precautions as they have throughout the fall."
Boyd announced in a Dec. 16 email to students that residential college dining halls, Commons, the Elm and the Bow-Wow would transition to grab-and-go meal service only for the remainder of the semester, beginning Thursday evening.
"A recent, worldwide surge in COVID-19 cases, driven by the highly infectious Omicron strain, has prompted us to raise alert levels on campus and adjust our plans to best protect our community," university President Peter Salovey said in the announcement.
The announcement came after a Johns Hopkins University medical professor slammed America's elite universities – including those in the Ivy League – for 'anti-scientific and cruel' COVID policies that ignore how little risk the virus actually poses to college students.
Dr. Marty Makary blamed groupthink at such higher learning institutions as  Georgetown, Cornell, Princeton, UMass, and Emerson for creating undue harm on the mental health of college students, in an article published on Bari Weiss' Common Sense Substack,
Over the last six months, Makary wrote, the risk of a person 15 to 24 dying of COVID was 0.001 percent – and those who did die were unvaccinated with a comorbidity.
The announcement "triggered" many followers of the Yale Daily News Facebook page.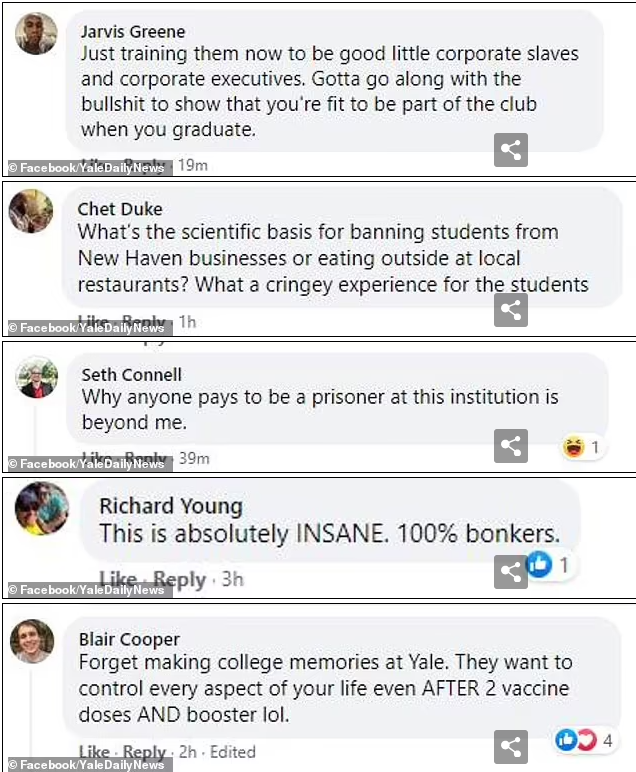 This decision by the Yale administration will add an additional attribute to some of the students attending the prestigious university, "Cultural Snowflake".
To tell their students to be scared of dying of COVID, even though young Americans, ages 15-24, have only a 0.001 percent chance of sub-coming to the virus, is setting them up for a life of many more risks which have a higher death rate, potentially causing their graduates to be paralyzed in fear for a life time.
Written By: Eric Thompson, host of the Eric Thompson Show.
Follow Eric on his website ETTALKSHOW, and social media platforms, MAGABOOK, Twellit & Twitter.   
This story syndicated with permission from Eric Thompson – Trending Politics
"*" indicates required fields