The GOP has become predictably weak in recent years, especially when trying to push through meaningful legislation or fighting against the cancel culture.
Saying this, two voices especially are still calling out from the crowd saying; Don't back down, never surrender. They are former President Donald J. Trump and Florida Governor Ron DeSantis.
Florida Republican Gov. Ron DeSantis shared his thoughts concerning Rogan and the cancel culture during an interview with Fox News Digital in response to attacks from mainstream media.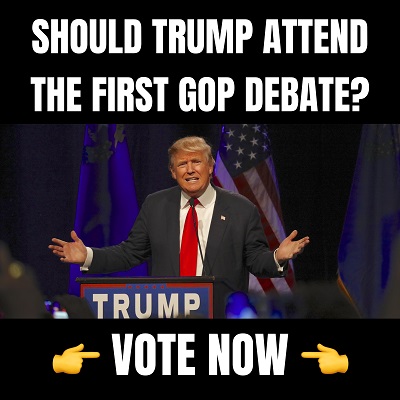 "No, he shouldn't have apologized. I mean, you see what happens? The mob will come after people, and they're targeting Rogan because he's threatening to upset the apple cart on some of the things that they're holding dear. And with COVID, he's just bringing opposing views. He's letting people decide," DeSantis said.
"They say he's against [the COVID vaccine]. I do not listen to his show, but then I read he specifically advocated for people with co-morbidities and elderly to get vaccinated," he added.
"I think a lot of the legacy outlets and I think the left fear the fact that he can reach so many people, and so they're out to destroy him," DeSantis noted.
DeSantis then offered Rogan his advice.
"But what I would say is don't give an inch. Do not apologize. Do not know to the mob. Stand up and tell them to pound sand; if you do that, there's really nothing that they're able to do to you. The only way they have power is if you let them get your goat," he added.
The governor's supportive words come after JREMissing reported that 113 episodes of Rogan's show had been taken down. Rogan reportedly made the decision to pull the episodes following conversations that he had with Spotify.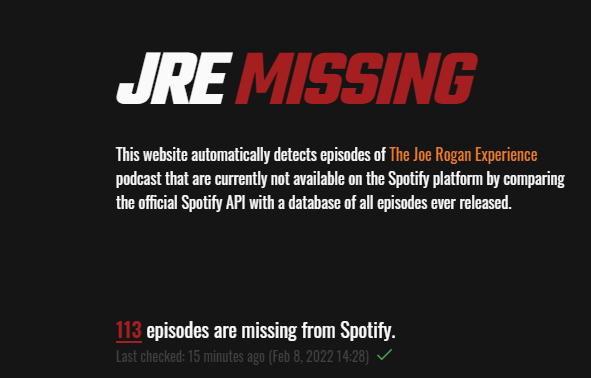 Rogan has apologized for using a racial slur in old episodes of the show that he says were taken out of context in an attempt to ruin him. Rogan says that he used the slur when quoting others instead of saying the "n-word."
"It's not my word to use. I am well aware of that now, but for years I used it in that manner," Rogan said. "I never used it to be racist because I'm not racist."
Former President Donald J. Trump is also speaking out and telling Rogan to stop apologizing.
Joe Rogan is an interesting and popular guy, but he's got to stop apologizing to the Fake News and Radical Left maniacs and lunatics," Trump says in a statement.
"How many ways can you say you're sorry? Joe, just go about what you do so well and don't let them make you look weak and frightened. That's not you and it never will be!" 
Spotify's CEO Daniel Ek has released a statement to internal staff that seemed to apologize for Rogan's "hurtful" comments.
Full text of Spotify CEO Daniel Ek's note to staff: pic.twitter.com/3FHlmzV3UW

— Peter Kafka (@pkafka) February 7, 2022
Ek had previously noted Spotify plans to keep Rogan on Spotify on its platform, arguing it is not the editor of his content. The statement said in part:
Another criticism that I continue to hear from many of you is that it's not just about The Joe Rogan Experience on Spotify; it comes down to our direct relationship with him. In last week's Town Hall, I outlined to you that we are not the publisher of JRE. But perception due to our exclusive license implies otherwise. So I've been wrestling with how this perception squares with our values.
If we believe in having an open platform as a core value of the company, then we must also believe in elevating all types of creators, including those from underrepresented communities and a diversity of backgrounds. We've been doing a great deal of work in this area already but I think we can do even more. So I am committing to an incremental investment of $100 million for the licensing, development, and marketing of music (artists and songwriters) and audio content from historically marginalized groups. This will dramatically increase our efforts in these areas. While some might want us to pursue a different path, I believe that more speech on more issues can be highly effective in improving the status quo and enhancing the conversation altogether.
I think Rogan should follow Trump and DeSantis' advice as he has already the leverage in the situation. Two other media companies, including Rumble, have publically offered Rogan the same $100 Million dollars that he is currently under contract to make with Spotify over the next 5 years.
So Spotify would probably be the only one who would suffer financially if they caved to the cancel culture, which I don't expect to happen either.
Written By: Eric Thompson, host of the Eric Thompson Show
Follow Eric on his website ETTALKSHOW, and social media platforms, MAGABOOK, Twellit & Twitter. 
This story syndicated with permission from Eric Thompson – Trending Politics
Notice: This article may contain commentary that reflects the author's opinion.
---


Calling All Americans! Patriot Fetch is Conservative Breaking News Headlines every day, all day. Go to PatriotFetch homepage for daily Conservative news or look below for the next hot story!