Kyle Rittenhouse who shot men during the protest in Kenosha 2020 has said he plans to sue numerous celebrities, media outlets and politicians who continue to call him a 'murderer' and a 'white supremacist" despite the ruling of a jury that he had acted in self-defense.
During the Black Lives Matter riots and spurred in protest against police violence which took place in Kenosha, Wisconsin in August 2020, Rittenhouse fatally shot two men and wounded another.
Rittenhouse, then 17, had attended the riots with a group of other men armed with a semi-automatic weapon to try to protest businesses from looting, arson and destruction. The young man was chased into a parking lot by protester Joseph Rosenbaum, 36, who Rittenhouse fatally shot.
A crowd proceeded to chase Rittenhouse who attempted to flee but was struck with a skateboard by another protestor, Anthony Huber, 26, who Rittenhouse fatally shot in the chest.
Gaige Grosskreutz, who was armed with a handgun was then shot at by Rittenhouse causing some minor injury to his arm.
Rittenhouse was charged with two counts of homicide, one attempted homicide and other offences but was found not guilty in court last November and was free to go.
Speaking to Fox, Rittenhouse told how he was going to take action against those who continue to call him a 'murderer' despite his acquittal:
"We are looking at quite a few politicians, celebrities, athletes, Whoopi Goldberg is on the list. She called me a murderer after I was acquitted by a jury of my peers. She went on to say that. And there's others".
Liberal news and commentary channel, Young Turks' founder Cenk Uyger is also in Rittenhouse's sites, who he says continues to say he's a 'murderer'.
Fox's Carlson then asked: "What about the people who called you a white supremacist? It makes it pretty hard to get a job for the rest of your life if you are a white supremacist."
"Absolutely', Rittenhouse responded. "We're going to hold everybody who lied about me accountable, such as everybody who lied called me a White supremacist,' Rittenhouse said in response. 'They're all going to be held accountable. And we're going to handle them in a courtroom."
(Then) presidential candidate, Joe Biden criticized (then) President Donald Trump for failing to label those who opposed the Black Lives Matter riots as "white supremacists".
Biden put out a Tweet in November 2020 which included a photograph of Rittenhouse: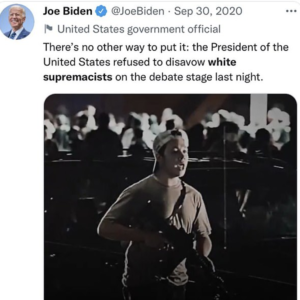 African American NBA star LeBron James also attacked Rittenhouse – who was filmed breaking down crying in court as he gave his testimony of self-defense.
LeBron mockingly Tweeted: "What tears???? I didn't see one. Man knock it off! That boy ate some lemonheads before walking into court".
Rittenhouse revealed in addition to suing those who defamed him, he plans to set up The Media Accountability Project – an organization "to help fundraise and hold the media accountable for the lies they said and deal with them in court'.
"The media's the most powerful entity on earth. They have the power to make the innocent guilty and to make the guilty innocent, and that's power.' 
"I don't want to see anybody else go through what I went through".
This story syndicated with permission from For the Love of News
"*" indicates required fields