The left-leaning new outlets are all marching to the same drum beat, this time, to take away Americans' guns.
Democrats who are way behind in recent polling and are at this point expected to lose at least the House in November, are trying to not let the 2 mass shootings in New York and Texas go to waste politically.
Their party's talking point asks them to collectively push for more "gun control", and to especially target the very popular AR-15 rifle.
The counter-message by anyone who is not daily consuming the radicals Kool-aid; is that cities and states that currently have the toughest gun laws, also have some of the highest rates of shootings and deaths with handguns, so why would adding more gun laws be the best solution?
In cities like Chicago, New York, and Los Angeles, their anti-police stances along with tough gun laws have created environments that have increased criminal activity, leaving locals afraid to leave their homes, even in broad daylight.
Chicago shootings over the weekend left at least 28 shot, four fatally, this weekend, police said. https://t.co/BSCaFTWjQP

— ABC 7 Chicago (@ABC7Chicago) June 6, 2022
What the left doesn't talk about when discussing the second amendment, is the number of crimes that are being prevented because of the use of a firearm by law-abiding citizens.
A perfect example of why our founders included the second amendment took place 3 years ago.
An eight-month-pregnant woman used an AR-15 rifle to defend her then 11-year-old daughter and injured husband during a violent home invasion in Lithia, Florida. This story is back in the public eye in 2022 because the family's survival can be primarily attributed to them owning this most targeted rifle.
What happened was the woman's husband, King, was being pistol-whipped and kicked in the head by two masked burglars, after being disarmed of his pistol, leaving him defenseless.
"Them guys came in with two normal pistols and my AR stopped it," King told Bay News 9 in Tampa in 2019. "[My wife] evened the playing field and kept them from killing me."
"They came in heavily hooded and masked. As soon as they had got the back door opened, they had a pistol on me and was grabbing my 11-year-old daughter," King recalled.
"I'm telling them, 'I have nothing for you.' … And they're like, 'Give me everything you got!' It became real violent, real fast," he said.
The burglars, who wore masks and hoods, pistol-whipped and repeatedly bashed King in the head.
The commotion alarmed King's wife, who was in the back bedroom. One of the burglars saw her and shot at her.
So if we stop the narrative here, what if the anti-gun establishment had previously been successful, in removing this family's AR-15?  This family would not have had a weapon that gave them an equal opportunity to fight for their very lives, in their home, in the United States of America.
Because the left had not been successful, Mrs. King, in her third trimester, was able to run into a back room, grab their AR-15 rifle, and storm into the living room to fight back, for her family's sake.
"When he came toward the back door in her line of sight, she clipped him," King said. "He made it from my back door to roughly 200 feet out in the front ditch before the AR did its thing."
Joseph Michael Baez, 27, was found dead in the ditch, according to the Tampa Bay Times.
King suffered a concussion, a fractured eye socket, and a fractured sinus cavity. He required 20 stitches and three staples in his head.
He credited his wife's quick thinking and their AR-15 rifle for keeping their family alive.
"She evened the playing field and kept them from killing me," he said.
This and thousands of others stories directly go against the narrative that a gun-free America would result in peaceful streets and neighborhoods.
Progressives are delusional on many points but in addition to the aforementioned mini-war zones, like Chicago, which has thousands of annual shootings by criminals who did not buy their weapons legally, the prohibition of drugs has been raging for decades, yet our nation is seeing records deaths and overdoses the past few years.
The answer to stopping mass shootings is not fewer guns, but a public armed, and prepared to deal with maniacs who choose to kill innocent people with a gun, knife, pipe bomb, or even a vehicle, to name a few.
School security must be upgraded nationwide, and money shifted into combatting mental illness, instead of attacking the second amendment rights of law-abiding Americans.
Florida Governor Ron DeSantis came out of the gates fast again, this time to show the Biden administration that the Sunshine State is not interested in more gun laws.
Florida is, instead, prioritizing school safety in the wake of the two recent mass shootings in New York and Texas.
Gov. DeSantis on Thursday signed the state's "Freedom First Budget," which includes an increase in funding for school safety and mental health initiatives.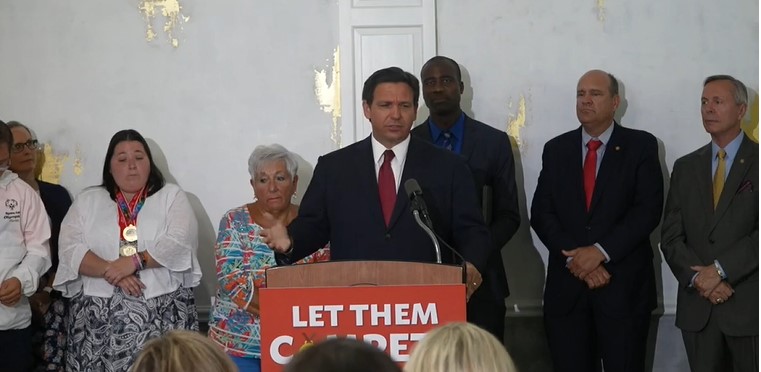 By: Eric Thompson, editor of EricThompsonShow.com. Follow me on Twitter and MagaBook
This story syndicated with permission from Eric Thompson, Author at Trending Politics
Notice: This article may contain commentary that reflects the author's opinion.
---


Calling All Americans! Patriot Fetch is Conservative Breaking News Headlines every day, all day. Go to PatriotFetch homepage for daily Conservative news or look below for the next hot story!