Former President Donald Trump delivered one heck of a speech at the Conservative Political Action Conference on Saturday where he also happened to win, rather handily I might add, the 2024 presidential straw poll. It seems that Trump's influence over the Republican Party is not even close to being diminished, and if this poll is any indication, there is a very good chance he will win the GOP nomination and take on President Joe Biden in 2024 in what will be the greatest rematch since Ali vs. Frazier III.
According to The Daily Wire, "Trump seemed eager to settle scores with members of both parties after a turbulent first term and his re-election loss in 2020. Calling the 2024 contest 'the final battle,' Trump acknowledged in the event's keynote address that he is wiser now about the way Washington works."
"We'll appropriately deal with the RINOs," he went on to say during the address, making a reference to "Republicans In Name Only." "We will never go back to the party of Paul Ryan, Karl Rove and Jeb Bush."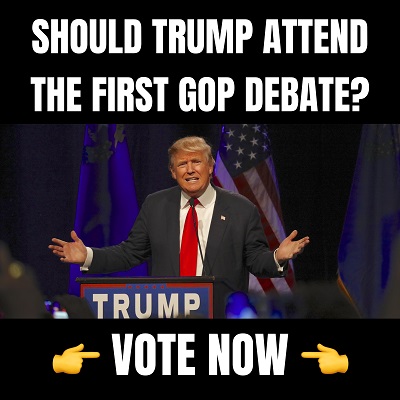 I believe Trump is right about that. When he came on the scene back in 2015 and launched his first bid for the White House, he changed politics forever. He won the presidency and did what no politician has done in recent memory: he kept his promises. The policies he enacted set America back on track for economic recovery, being a superpower on the geopolitical stage once again, and preserving our traditional values and principles which made America the greatest country in human history.
The establishment was torn asunder and have experienced defeat after defeat ever since. No more politics as usual.
"Trump won the support of 62% of respondents at the annual event's straw poll, held this year in Fort Washington, MD. Florida Governor Ron DeSantis, who did not attend, came in second with 20%, and third place went to Michigan billionaire Perry Johnson," the report said.
Chants of "Four more years!" erupt at CPAC during Trump's speech. pic.twitter.com/e11nQaD4Zn

— Citizen Free Press (@CitizenFreePres) March 4, 2023
"The support for Johnson, whose bid to be governor of Michigan was scuttled last year before the general election, was a blow to other Republicans who have announced or are believed to be considering runs, such as former Vice President Mike Pence, ex-UN Ambassador and South Carolina Governor Nikki Haley, and former Secretary of State Mike Pompeo. DeSantis has not announced a 2024 bid but is widely expected to in the coming months," the Daily Wire continued.
In a different poll that was geared toward asking the CPAC crowd who should serve as Trump's vice president, Kari Lake, who lost her bid for governor in Arizona, led with 20 percent support, followed by DeSantis with 14 percent. Over 2,000 people who showed up to the event participated in the poll.
"Trump's strong showing at CPAC was somewhat predictable, as the annual gathering of conservatives attracts many activists from the GOP's 'MAGA' wing. Many of the other potential GOP candidates, including DeSantis, opted to attend an overlapping, three-day Club for Growth event in Palm Beach, Florida. That event, to which Trump was not invited, attracted major GOP donors," the report added.
During the almost two-hour speech, Trump warned that some of those who are challenging him for the primary could be supporting reforms made to both Social Security and Medicare.
"We are never going back to the people that want to destroy our great social security system … even some in our own party, I wonder who that might be," he went on to say.
The former president also issued a warning that our country could be headed toward a third world war because of the conflict between Russia and Ukraine, stating he believes he could have brokered a peace deal with Russian leadership. Trump then took aim at the seemingly never-ending investigations and prosecutions launched against him and his family, which includes the recent probe into his potential role in the riot at the Capitol building on January 6, and separate cases in both New York and Georgia. Oh and let's not forget the raid on his Florida estate by the FBI last August.
"Every time the polls get higher and higher, the prosecutors get crazier and crazier," Trump continued. "They're not coming after me, they're coming after you, and that's why I'm standing here today. I'm standing before you because we're going to finish what we started. We're going to complete the mission."
Notice: This article may contain commentary that reflects the author's opinion.
---


Calling All Americans! Patriot Fetch is Conservative Breaking News Headlines every day, all day. Go to PatriotFetch homepage for daily Conservative news or look below for the next hot story!