Yet another big name has tossed their hat in the ring for consideration in the 2024 GOP primary race. Former Vice President Mike Pence has officially filled out and filed the paper work to join the election, facing off against former President Donald Trump, whom he served under, and current Florida Gov. Ron DeSantis. That's some rather stiff competition, and to be honest, I'm not so sure it was a good idea to run this time around.
After all, in order to have any sort of chance at victory, he has to have support from quite a few members of Trump's base. Given how things played out at the end of 2020, I'm not so sure that's going to happen. At all.
"Pence, 63, represented Indiana in the House from 2001-2013, earning a reputation as a rock-ribbed conservative. From 2009-2011, he served as chairman of the House Republican Conference, the third-highest position in the House GOP caucus. He was elected governor of his state in 2012, then selected by former President Donald Trump as his running mate in 2016," the Daily Wire reported.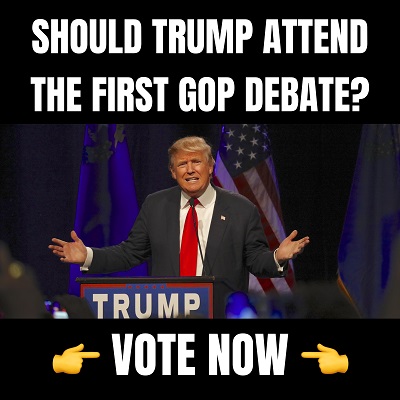 The report continued, "As governor, Pence implemented the largest tax cut in Indiana's history, lowering individual income tax rates, the business personal property tax, and the corporate income tax, and also signed the Religious Freedom Restoration Act, later amending it after pressure from opponents. As governor, he passed two balanced budgets. As vice president, Pence chaired the National Space Council as well as the White House Coronavirus Task Force."
Former President Trump had requested that Pence overturn the election results, but instead he certified them, which led to a deep rift between the two men, which ultimately led to many of Trump's fans turning on the former Indiana congressman turned vice president.
"I think we'll have better choices," Pence weighed in recently on Trump's campaign to win the 2024 nomination. "The American people want us to return to the policies of the Trump-Pence administration, but I think they want to see leadership that reflects more of the character of the American people."
One of the issues that Pence is strong on that could help build up a little bit of a following is his opposition to the murdering of pre-born children, saying back in 2016, "I'm pro-life and I don't apologize for it. We'll see Roe v. Wade cosigned to the ash heap of history where it belongs."
And Trump's administration followed through on that promise, thanks to installing some dedicated conservative Supreme Court justices to the bench.
Right after five police officers were killed in cold blood back in 2016 by a guy that police said was on a mission to kill white people, Pence commented, "This attack on police officers in Dallas is also a heartbreaking reminder of the risks the men and women of our law-enforcement community take every day to protect and serve our communities. In the wake of this tragedy, we must be clear that violence and threats against law enforcement officers will never be tolerated and ensure that our police have the training and resources to defend themselves as they defend our communities."
Back in 2016, Obama, nearing the end of his time in the Oval Office, put forth a directive that allowed transgender students enrolled in public school to use bathrooms and locker rooms that aligned with the gender they identified as. Pence responded to that policy, stating, "The federal government has no business getting involved in issues of this nature."
I still think he's going to be facing a very steep uphill climb in the battle for the GOP nomination. He'd probably have a better chance of getting his job back as a congressman or a senator than the president, but hey, anything is possible. But is it probable?
I'll let you decide.
Notice: This article may contain commentary that reflects the author's opinion.
---


Calling All Americans! Patriot Fetch is Conservative Breaking News Headlines every day, all day. Go to PatriotFetch homepage for daily Conservative news or look below for the next hot story!