Former President Donald Trump has put out a video in response to the news of a second federal grand jury indictment against him, this time on charges of mishandling classified documents after he left the Oval Office in January 2021. In the video, Trump referred to the case as the "boxes hoax," before launching into a recounting of all the past examples of radical left-wing assaults made against him, all of which have failed to take him out, politically speaking.
And make no mistake about it, that's exactly what they are trying to do. Liberals know that if Trump is allowed to continue his 2024 presidential campaign there's a good possibility he'll end up being the Republican nominee, which means a rematch with Joe Biden. Given how awful Biden has performed as the commander-in-chief, Trump stands a very good chance of defeating him in the general election.
So the radicals within the Biden administration have been weaponizing the Department of Justice against the former president and many of his ardent supporters to try and either silence their voices, remove them from the realm of politics, or intimidate them into not taking action.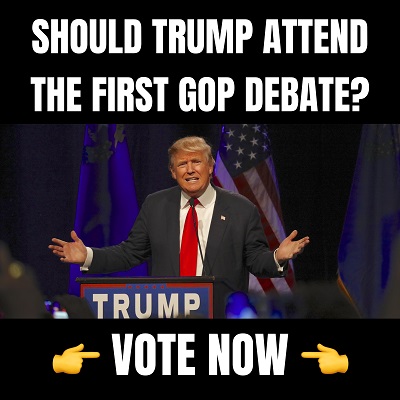 So far, their attempts have failed.
"Very sadly we're a nation in decline," Trump said, according to the Daily Wire. "And yet, they go after a popular president, a president that got more votes than any sitting president in the history of our country, by far, and did much better the second time in the election than the first."
"I'm an innocent man, I'm an innocent person," the former president proclaimed, later going on to add that he thinks his current presidential campaign is doing so well that liberal Democrats "figured the way they're going to stop us is by using what's called warfare. That's what it is, this is warfare for the law. And we can't let it happen. We can't let it happen. Our country is going to hell."
Pretty much the exact same conclusion I reached on the matter.
"And they come after Donald Trump, weaponizing the Justice Department, weaponizing the FBI, we can't let this continue to go on because it's ripping our country to shreds," he added. "They're trying to destroy [my] reputation, so they can win an election. That's just as bad as doing any of the other things that have been done over the last number of years, and especially during the 2020 election."
As the video progresses, Trump reiterates that he's "innocent" of the charges against him, stating he did "nothing wrong" and that he is planning to "fight this out just like we've been fighting for seven years."
"But now, again, our country is in decline," the former president said. "We're a failing nation. And this is what they do. I'm an innocent man, we will prove that again. Seven years of proving it. And here we go, again. Very unfair. But that's the way it is. I just want to thank everybody. We are doing something very special for our country. We're putting America first, I always put America first. And that's why we were in a position. Unfortunately, that position is no longer valid because they've done such a poor job. But we're in a position where we're going to make America great again. I'm innocent and we will prove that very, very soundly."
I AM AN INNOCENT MAN. THE BIDEN ADMINISTRATION IS TOTALLY CORRUPT. THIS IS ELECTION INTERFERENCE & A CONTINUATION OF THE GREATEST WITCH HUNT OF ALL TIME. MAKE AMERICA GREAT AGAIN!!!pic.twitter.com/3lcIwvrPXe

— Team Trump (Text TRUMP to 88022) (@TeamTrump) June 9, 2023
Former President Trump has done a lot for the country just by being himself. Sticking to his values and principles, carrying out campaign promises, and actually listening to his constituents has resulted in making him one of the most feared conservatives by progressives bent on the destruction of liberty in the country, followed no doubt by fellow presidential candidate Florida Gov. Ron DeSantis.
Through all of this, Trump has exposed the true level of corruption, depravity, and darkness lying beneath the bleeding heart facade of the Democratic Party.
Notice: This article may contain commentary that reflects the author's opinion.
---


Calling All Americans! Patriot Fetch is Conservative Breaking News Headlines every day, all day. Go to PatriotFetch homepage for daily Conservative news or look below for the next hot story!