CNN host Phil Mattingly threw down the gauntlet during a conversation with fellow network host and analyst John Avlon, challenging him to provide one instance in history when a candidate smashing their competition like former President Donald Trump is doing right now, and still ended up losing the election. I'm going to drop a small spoiler right here: he can't do it. This is a surprising "drop the mic" moment from CNN.
"The panel discussed concerns about Vice President Kamala Harris along with a new CBS poll that found just 34% of Americans believe President Joe Biden would finish a second term. Mattingly then turned his attention toward the likely matchup between Trump and Biden," the Daily Caller said.
"Give me historical precedent for anyone in the history of the Republican Party, or really any party, being this far up, this close to the Iowa caucuses, with this rock solid of a base, that in poll after poll after poll isn't remotely malleable or willing to openly consider anybody else, losing?" Mattingly asked his guest.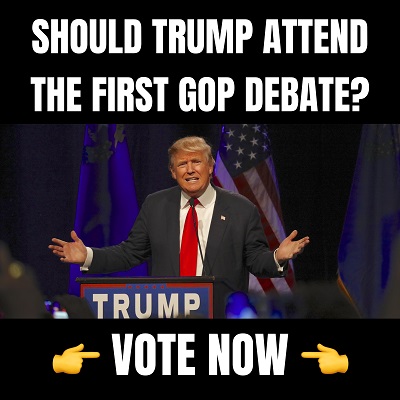 "I'll take your challenge," Avlon fired back, feeling more than a little froggy. "Give me a case where you got a candidate who's been indicted four times over 90 counts, it's had a huge impact on his polling, but when more people start to think about his electability, you've got a very fractured field that elevates him. And yes, Donald Trump, he has hardcore support … but there's a simple majority of people who are opposed to him or persuadable and that's why I think it is a disservice … to say that this is a forgone conclusion, a done deal. It's not. People haven't voted yet and they won't start for four months."
Trump is currently demolishing Biden in polls conducted in several important battleground states such as Arizona, Michigan, Georgia, Nevada, North Carolina, Pennsylvania, and Wisconsin, by a score of 41 percent to 35 percent, according to data from Reuters/Ipsos.
Not only is the former president killing it with American voters in the Republican Party, he's doing pretty good with independent voters too, taking in 32 percent to Biden's 30 percent.
In other words, the vast majority of the American people can see through all of the lies and propaganda being pushed by radical leftists and know for a fact the vast majority of the charges facing the president were cooked up as a means of trying to ruin his presidential campaign. Unfortunately for them, the more they attack him, the stronger he gets. Since people know the attacks against Trump are politically motivated, they have now been convinced to cast a ballot for him in both the primary and general election to be held  next year.
In summary, the attacks against Trump only make his current base more supportive and increase the number of people who are willing to vote for him. The left is creating the very thing they thought they were destroying. Surely, by now, they should have figured this out, right? That would be giving the radical progressive camp far too much credit.
Notice: This article may contain commentary that reflects the author's opinion.
---


Calling All Americans! Patriot Fetch is Conservative Breaking News Headlines every day, all day. Go to PatriotFetch homepage for daily Conservative news or look below for the next hot story!