A whiny bunch of liberal crybabies who are part of an activist group that is based in the politically corrupt swamp we refer to as Washington, D.C., are claiming they want to "shore up our democracy against attacks," which apparently means doing everything in their power to keep President Joe Biden from having a rematch with former President Donald Trump in next year's general election. One way they intend to accomplish that goal is by keeping Trump off the GOP primary ballot in the state of Colorado.
In other words, they don't want the residents of Colorado to be able to choose from all of the candidates who are vying for the Republican Party nomination, just who they deem to be the right man or woman for the spot. That doesn't sound a whole lot like democracy, does it? So are they saying they can protect democracy by destroying democracy?
That's not how this works, people.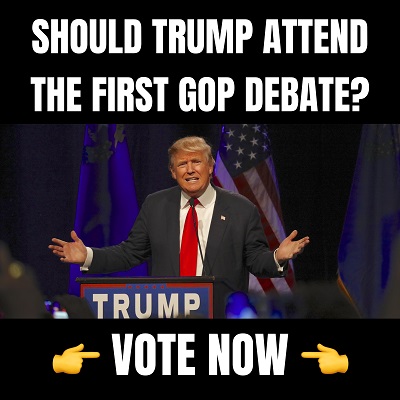 Also, for the record, the United States is not a democracy. We are a republic. Democracy is just tyranny with a bow on top.
" Citizens for Responsibility and Ethics in Washington, a group that has been called a "lapdog to left-leaning politicians" and has sought to hamstring former President Donald Trump since 2016, filed a lawsuit Wednesday in Denver District Court on behalf of six purported Republican and unaffiliated Colorado voters. The suit demands that Trump be removed from the GOP primary ballot and 'any future election ballot' for supposedly having 'disqualified himself from public office by violating Section 3 of the 14th Amendment,'" TheBlaze reported.
Joseph MacKinnon then stated in his report CREW put out a statement containing an allegation that the former president, who is now, believe it or not, beating Biden in a CNN general election poll, violated his oath of office during his time as president by "by recruiting, inciting and encouraging a violent mob that attacked the Capitol on January 6, 2021 in a futile attempt to remain in office." 
"The 115-page suit, which regurgitates Jan. 6 committee talking points and appears to cite Trump's recent indictments as supporting evidence for his ineligibility, names Colorado's Democratic Secretary of State Jena Griswold as a defendant. According to the complaint, Griswold should already have excluded Trump from the primary ballot," MacKinnon wrote.
Griswold — who MacKinnon pointed out beat the daughter of one of the petitioners in an election for the current role she holds — issued a response to the lawsuit which said, "I look forward to the Colorado Court's substantive resolution of the issues, and am hopeful that this case will provide guidance to election officials on Trump's eligibility as a candidate for office." 
There's no doubt in my mind that former President Trump is the most feared man in American politics, but only by the Democratic Party. Anyone who has this level of hatred by progressives, who is viewed as this much of a threat to their plans for the future of the United States, that is someone worth considering for office. He's proven time and again to be a man of his word and if he says he's going to dismantle the deep state and fix our two-tiered system of justice, he's definitely going to follow through.
And that's why there is so many different attacks against him right now.
"Georgia Secretary of State Brad Raffensperger (R), who has similarly been met with requests to remove Trump from the ballot ahead of the 2024 election, has suggested that doing so in his state or elsewhere would "only reinforce the grievances of those who see the system as rigged and corrupt," further underscoring in the Wall Street Journal that 'denying voters the opportunity to choose is fundamentally un-American,'" the report stated.
"Invoking the 14th Amendment is merely the newest way of attempting to short-circuit the ballot box," wrote the secretary of state. "Mr. Trump might win the nomination and general election. Or he could lose. The outcomes should be determined by the people who show up to make their preference known in primaries (including Georgia's on March 12) and the general election on Nov. 5. A process that denies voters their chance to be the deciding factor in the nomination and election process would erode the belief in our uniquely American representative democracy."
A report issued by the Associated Press stated that there have been attempts by folks they called "fringe figures" all over the country to sue citing this very clause, but most of those efforts amounted to a hill of beans in the long run. However, they say this shenanigans in Colorado has a bit more heft to it because of the legal resources that are behind it. Tierney Lawrence Stiles LLC, KBN Law LLC, and Olson Grimsley Kawanabe Hinchcliff & Murray LLC are the ones representing the group's efforts.
" Among the petitioners named in the suit are Norma Anderson, Michelle Priola, Claudine (Cmarada) Schneider, and Krista Kafer. Anderson, an on-again, off-again Republican from Lakewood, served in the state House from 1987 until 1998, then served in the state Senate from 1999 to 2005. She is the mother of failed Colorado secretary of state candidate Pam Anderson. Priola is the wife of Democratic state Sen. Kevin Priola. Schneider is a former Republican U.S. representative from Rhode Island. Krista Kafer is a Never-Trumper Denver Post opinion writer, according to KMGH-TV," MacKinnon added in the article.
CREW President Noah Bookbinder, who has a name that sounds like it was ripped right out of the pages of a badly written Dungeons & Dragons adventure module, went on to say, "If the very fabric of our democracy is to hold, we must ensure that the Constitution is enforced and the same people who attacked our democratic system not be put in charge of it." 
Agreed. Which is why Joe Biden must not be allowed to have a second term in the White House.
Notice: This article may contain commentary that reflects the author's opinion.
---


Calling All Americans! Patriot Fetch is Conservative Breaking News Headlines every day, all day. Go to PatriotFetch homepage for daily Conservative news or look below for the next hot story!