Former President Donald Trump continues to be true to himself, coming out with both barrels blazing against current President Joe Biden, issuing a warning that "some terrible things" could be on the way after "dumb as a rock" Biden essentially handed $6 billion over to Iran in exchange for five individuals. Remember how our official policy used to be not to negotiate with terrorists? As a result of doing that several times now, it's become quite lucrative to kidnap Americans in places like Iran, which means the likelihood of an American getting nabbed in the Middle East just exploded upward. That was the reason the policy was in place to begin with.
"This absolutely ridiculous 6 Billion Dollar Hostage Deal with Iran has set a terrible PRECEDENT for the future," Trump stated in a post Monday on Truth Social as the five Americans were released. "Buckel up, you are going to see some terrible things start to happen.
"The 3 years ago highly respected USA has become a laughingstock all over the WORLD. MAKE AMERICA GREAT AGAIN. VOTE TRUMP!!!" he wrote. While Trump absolutely did not support Biden giving Iran money in exchange for American citizens, he did say he was in full support of bringing the individuals home. I mean, of course, right? We want our people brought home. But not by handing Iran, a nation that hates our guts, billions of dollars that will no doubt be used to fund terrorist organizations dedicated to our destruction.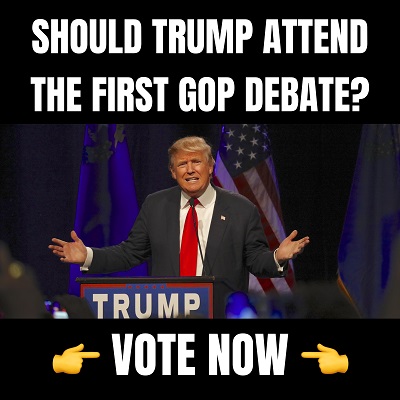 "I brought 58 HOSTAGES home from many different countries, including North Korea, and I never paid anything," Trump went on to say in an ensuing Truth Social post. "They all understood they MUST LET THESE PEOPLE COME HOME! Toward the end, it got so that countries didn't even start the conversation asking for money, because they knew they would not get it."
Again, what's really happening here is Joe Biden is rewarding bad behavior, encouraging terrorist organizations to take Americans hostage in the future as part of a lucrative business model designed to provide them with everything they need to put together plans for future attacks.
"Once you pay, you always pay, & MANY MORE HOSTAGES WILL BE TAKEN," Trump stated in the warning published on social media. "Our grossly incompetent 'leader,' Crooked Joe Biden, gave 6 BILLION DOLLARS for 5 people. Iran gave ZERO for 5. He's Dumb as a ROCK!"
"Five U.S. citizens held in Iran landed in Doha, Qatar, on Monday in a prisoner swap for five Iranians held in the United States, along with the unfreezing of $6 billion in Iranian funds tied up by U.S. sanctions,'" Newsmax stated.
What in the world was Joe Biden thinking? Why would he, and his former leader President Barack Obama, violate longstanding American policy of not negotiating with terrorists in order to protect Americans, suddenly start doing the opposite. He wants votes, duh. I believe President Biden thinks that bringing home these hostages will make him more appealing to voters.
In reality, good economic policy would be much better at lifting his poll numbers.
Notice: This article may contain commentary that reflects the author's opinion.
---


Calling All Americans! Patriot Fetch is Conservative Breaking News Headlines every day, all day. Go to PatriotFetch homepage for daily Conservative news or look below for the next hot story!